National Day of Mourning – April 28, 2022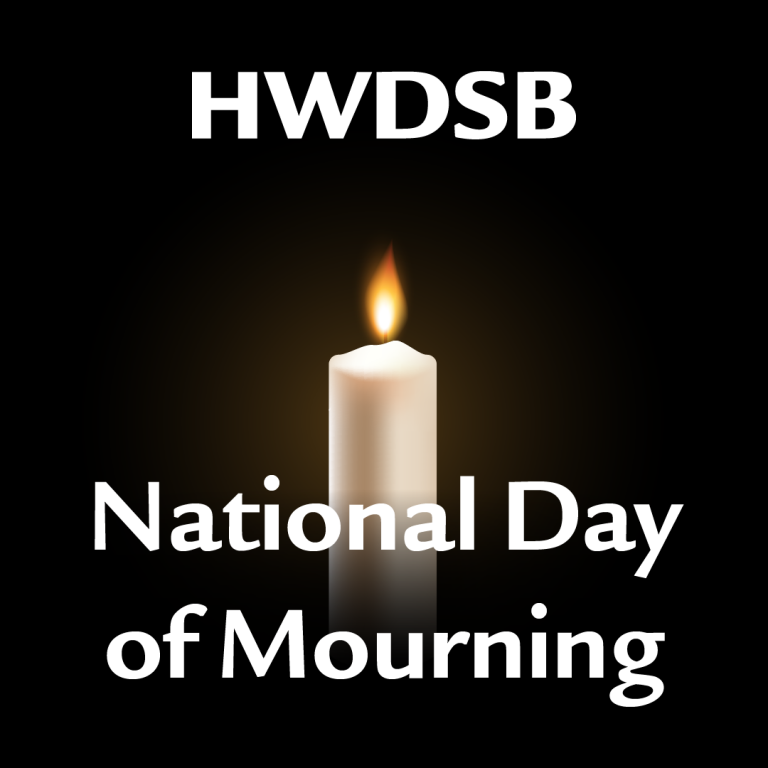 Today, we mark the National Day of Mourning, remembering workers who have been killed, injured or made ill in work-related incidents. We also take this day to collectively renew our commitment to preventing further injuries, illnesses and deaths.
We continue to thank the front-line workers who sustained our entire community during the pandemic, and those at HWDSB who arrived at work each day to support our students and colleagues.
The National Day of Mourning, first declared by the Canadian Labour Congress in 1984, is observed around the world. It is heartbreaking to think of those who have said goodbye to a loved one, only to have them never return home from work.
At HWDSB, we honour family members and friends touched by these tragedies. We stand with survivors, labour groups, families and community partners as we advocate for greater workplace safety.
The most recent figures, from 2019, reveal that Canada recorded 925 workplace fatalities, including 29 young workers aged 15-24. The same year saw 271,806 accepted claims for lost time due to a work-related injury or disease, including 33,615 from workers aged 15-24.
Numbers only capture a portion of the true impact of a life lost and a family left grieving.
At HWDSB each day, health and safety is our priority and a shared commitment by our Trustees, management, unions, health and safety committees, and all of our HWDSB staff. We all play a role in positively contributing to safety within our buildings, as outlined within our Occupational Health and Safety policy.
On the National Day of Mourning, let us honour everyone touched by workplace tragedy and impacted by workplace incidents, and ensure that all workers safely return home.
Sincerely,
John Bryant
Interim Director of Education
Updated on Wednesday, April 27, 2022.