Lifting of Health and Safety Measures in Schools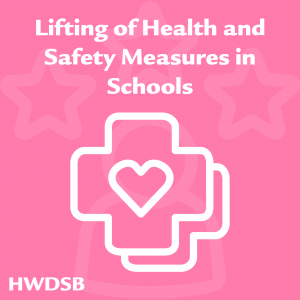 Last revised, March 19, 2022
Measures including cohorting, distancing, immunization disclosure, confirmation of screening and more will be lifted as of Monday, March 21. Families are strongly encouraged to continue daily screening and to stay home when you are sick.
Full details regarding the Lifting of Health and Safety Measures in Schools can be found below. For more information, please read our Letter to Families – Lifting of COVID-19 Restrictions in Schools.
Masks
Supporting staff and families during this phased approach and time of transition is our priority. As we move into the next phase of the pandemic with the lifting of several COVID-19 restrictions, HWDSB is reminding staff and students to wear a mask until April 1 and to exercise their choice by completing the mask exemption process, if needed. The form is available online and in the Parent Portal.
As always, we ask that everyone be respectful, kind, and considerate as we use this time to adapt and adjust to the changes in COVID-19 restrictions.
HWDSB will continue to deliver PPE to schools until the end of June.
Under current federal travel regulations, individuals returning from international travel (including the U.S.) must wear a mask at all times when in public spaces (including schools and childcare), maintain a list of all close contacts for the first 14 days in Canada, and monitor for signs and symptoms of COVID-19.
Cohorting and Distancing
Cohorting and distancing is lifted for all schools inside and at recesses/lunch time. Staff will work together to plan use of the playground for recesses and lunch times, which may include zones for grades or divisions. These factors will be determined at the school level.
Shared spaces such as libraries/learning commons, labs, theatres, auditoria and music rooms can be fully utilized without distancing. Classes can be combined if necessary to support student safety.
COVID-19 School and Child Care Screening Tool (Changes to Confirmation and Isolation)
Daily on-site confirmation of screening for all students and staff (both in-school and at the Education Centre) will no longer be required. Staff and students should continue to self-screen every day using the COVID-19 School and Child Care Screening Tool. There is no need for an educator to see verification using a device (i.e., green check mark), or a signature on a calendar.
Families should also note that the provincial COVID-19 School and Child Care Screening Tool has been updated. The key change is with respect to household members of someone isolating with a positive COVID-19 test, COVID-19 symptoms or someone isolating waiting for test results. Previously, all household members were required to isolate along with their symptomatic/positive housemate. Now, household members will no longer need to isolate if any single one of the following is true:
they are 18 or older and have received their booster, and/or
they are 17 or younger and are fully vaccinated, and/or
they have completed their isolation after testing positive in the last 90 days (using a rapid antigen, rapid molecular, or PCR test), and/or
the ill/positive household member is isolating because of COVID-19 symptoms but has already tested negative on one PCR or rapid molecular test, or two rapid antigen tests.
If none of the above are true, the household member would fail the daily screening and would be advised to isolate alongside their symptomatic/positive member of their household.
Household members who do not need to isolate because of the above must wear a mask in public settings for the next 10 days, avoid activities requiring masks to be removed (not including eating/drinking), and avoid high risk settings.
Immunization Disclosure
Effective March 14, 2022, the instructions issued by the Ontario Chief Medical Officer of Health related to immunization disclosure policies will be revoked across all sectors, including school boards. Therefore, there will be no further need for immunization disclosure for staff, visitors, volunteers or third-party service providers.
We will remove access to the Third-Party Immunization Disclosure file and reporting for any of the above will end. Rapid Antigen Testing for unvaccinated staff will also be ending as a result of the immunization disclosure being revoked.
Visitors, Volunteers and Third-Party Providers
Schools will begin to open to all visitors, including volunteers and third-party providers, and we want any visitors to schools to feel welcome and safe. We also understand that moving to open schools to visitors is a change after two years of restrictions and may cause some anxiety amongst staff and students.
We ask that all visitors remain patient as schools gradually begin to welcome community members back into schools. Schools have been provided with a plan to welcome back all visitors. Potential visitors should work with schools to understand the process of entering and exiting a building. HWDSB requires that:
All visitors must check in at the office to sign in and out.
All visitors will wait at the office until they are invited to the location in the school where they will be for their visit. Exemplary practice is for someone (staff or students) to accompany them to that location and point out the adult washrooms they may use.
Volunteers are asked to review our Volunteer Policy and Volunteer Procedure, as factors such as intake, screening and orientation will all need to be considered before returning to schools. Guidance on mask wearing for all visitors will be updated prior to March 21.
Visitors, Volunteers and Third-Party Providers

By March 21:

1:1 parent meetings
Guest speakers in-person to support program (SHSM, Indigenous, etc.)
Ward trustee visits with FOS-SOSA
Spectators for art performances and athletics outside of the school day
Media with approval by Communications and FOS-SOSA
Essential volunteers

By April 4:

Visits for new families/new student registrants (more information to follow about K orientation for 2022-23)
Parents may enter office for student pick up during the day (illness, appointments etc.)
3rd

party trainers for staff professional learning

May have larger meetings with parents (e.g., IPRC, intake)
School volunteers (e.g., fundraising, excursions)
School Council/Home and School. Please consider offering a hybrid approach to be most inclusive of all parents.
Spectators for arts performances during the school day
Classroom volunteers
Spectators (Athletic Events and Art Performances Outside the School Day)
All athletic events and arts performances, both elementary and secondary, outside of the school day will permit spectators. There are no capacity limits and distancing is not required. Spectators are responsible for self-screening. Guidance on mask wearing for all spectators will be updated prior to March 21.
Classroom Setups and Signage
Students may be grouped and can share tables for instruction and lunch in all classrooms and learning spaces. Plexi-glass is no longer needed in classrooms, but may still exist in some settings. These needs will be determined on a school level and could involve some plexi-glass remaining in place for the time being.
Facilities will begin to remove distancing and capacity signage in schools over the March Break, but some work could continue after March 21. Water fountains will become operational over the coming weeks, with those signs coming down as well. We recommend students and staff continue to bring a water bottle to school to use.
Fundraising and Excursions
Schools and classrooms are now able to plan for excursions and all fundraising can also continue. After two years of these activities being paused, please allow time for these activities to gradually resume.
Unchanged Measures
For the time being, families can expect these measures to continue at HWDSB:
Hand hygiene, respiratory etiquette and cleaning
Absence reporting and school website posts for positive cases
Rapid Antigen Tests (RATs) provided to those who become symptomatic at school or returning from illness (tests are for at-home, symptomatic use only)
Symptomatic students/staff at school will continue to isolate and be sent home based on criteria in screening tool
---
Resources
Updated on Saturday, March 19, 2022.