Indigenous Education Circle Strategic Action Plan Guides Work at HWDSB
Media Release
For Immediate Release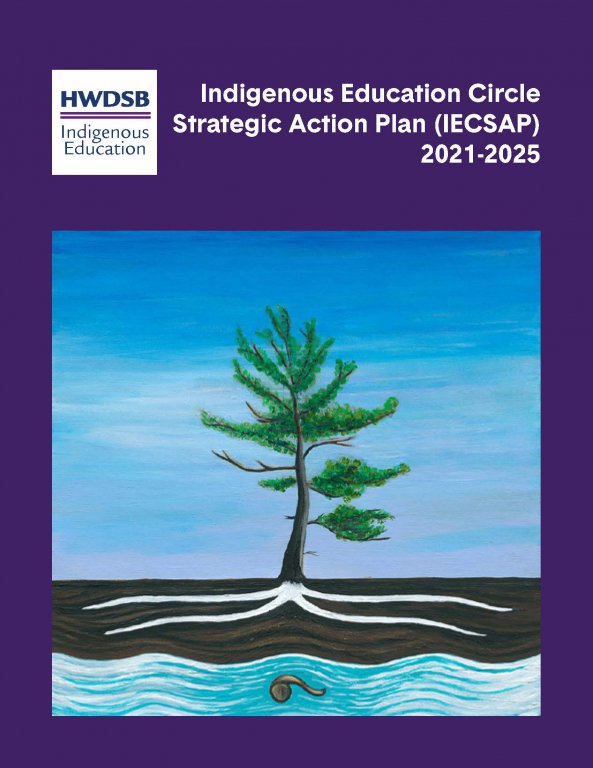 Hamilton, Ontario – November 25, 2022: Alongside Indigenous staff and partners, Hamilton-Wentworth District School Board (HWDSB) is pleased to announce the launch of a strategic action plan to guide Indigenous Education until 2025.
The Indigenous Education Circle Strategic Action Plan (IECSAP) 2021-2025 has five pillars – Revillagize, Reclaim, Renew, Restore and Celebrate – that create the opportunity to raise the collective Indigenous voices and honour commemoration, education, healing and wellness.
"Throughout this journey, we appreciate the voice and contributions of the local urban Indigenous community, as well as Haudenosaunee and Anishinaabe Knowledge Holders and language speakers," said Indigenous Education Lead Jolene John (Kanyen'kehá:ka, Turtle Clan, Six Nations of the Grand River Territory).
In 2018, the Indigenous Education Circle (IEC) began work on the plan by reviewing Indigenous Education priorities at HWDSB and the provincial Ministry of Education.
The IEC worked with the local Indigenous community to maintain the integrity of Indigenous languages, knowledge systems, worldviews, and ways of knowing, being and doing.
"Indigenous Education needs to be accurate, authentic and accountable to local Indigenous communities, nations and individuals," said Sue Dunlop, who supports Indigenous Education, as Associate Director, Learning Services, at HWDSB.
"We envision this work as a move toward restorative Indigenous educational wellness and success for students, families, communities, and nations," Dunlop added.
As the plan's opening states: "As Indigenous People, we move this plan forward, inviting treaty partners with the same baseline of peace, friendship and respect and in the same spirit of the treaty agreements, 'as long as the grass grows, river flows, and the sun shall rise.'"
Artwork in the plan is by auntie and advisor Elizabeth Doxtater, an artist, speaker, storyteller and writer born and raised on Six Nations of the Grand River Territory, who authored the Ontario College of Teachers document, Restorative Journey: Indigenous Educational Wellness.
Learn more about the Indigenous Education Circle Strategic Action Plan:

– 30 –
Media Contact:
Rob Faulkner, APR
Communications Officer
rfaulkne@hwdsb.on.ca, 905.906.2007
Updated on Friday, November 25, 2022.