Improved Data, Professional Learning and Relationships Support HWDSB Positive Culture and Well-Being Strategies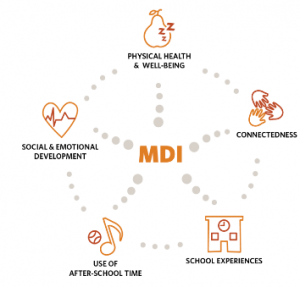 HWDSB's pioneering use of a respected student survey will help focus work to continue encouraging trends on reducing bullying, increasing student well-being and staff feedback at high-priority schools.
HWDSB is the first school board in Canada to implement the Middle Years Development Instrument (MDI) in all grade 4 to 8 classes. At HWDSB, 13,483 students at 85 elementary schools shared responses about their thoughts, feelings and experiences in schools.
"We should be extremely proud," Sharon Stephanian, Superintendent of Equity and Well-being, told the Human Resources Committee Nov. 5, 2018. "We are the only board to use the MDI survey locally like this, own our own data and do our own analysis."
The MDI will give every HWDSB elementary school baseline local data to shape their school annual plans in the areas of social and emotional development, physical well-being, connectedness, use of school time and school experiences.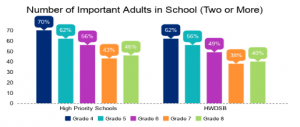 For older students, the Secondary Positive Climate Survey revealed encouraging trends: students felt safer, reporting 4 per cent less bullying and students reported a 6 per cent increase in believing there was extra help at their school.  Work will continue on enhancing the crucial relationship between adults and students in our schools.
"We will build on our We Help: Mental Health and Well-Being strategy to respond to the MDI and the Secondary Positive Climate Survey," Stephanian said. "Sometimes, we believe we are doing the right things to be an important person in a student's life; but they will tell us if it makes a difference for them."
In 2018-19, all HWDSB schools will focus on building student-staff relationships so that all students can identify an adult at school who cares about their well-being. This will be done through staff training based on the continued rollout of the We Help: Mental Health and Well-Being strategy.
Other successes in 2017-18 included learning by system leaders on diversity and equity, which led to the hiring of a Human Rights and Equity Officer. HWDSB also accepted t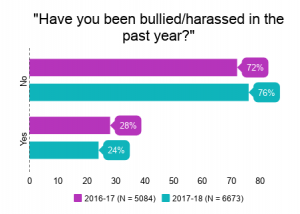 he Dish with One Spoon wampum belt and thus agreeing to the following:
Accepting the responsibility and commitment to acknowledging, restoring, and renewing relationships with Indigenous partners, stakeholders and local Indigenous communities;
Agreeing to accept the original Dish with One Spoon Wampum treaty, Land Acknowledgement, and our collective presence and responsibilities on this shared space.
During the 2018/19 school year, staff will be provided professional learning on using survey data, as well as anti-racism and anti-oppression strategies, to foster positive relationships at schools.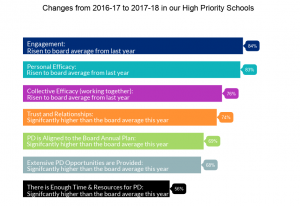 We will continue support for high-priority schools as initial findings suggest improvement in conditions over the previous year.
From 2016-17 to 2017-18 staff surveys, high priority schools rose to the board average on scores of engagement, personal efficacy and collective efficacy; they scored significantly higher than the board average on trust and relationships as well as several measures of support for professional development.
"We have a lot to celebrate," said Stephanian, noting improvements in student feelings of safety, bullying and the belief that help exists. "But the work of positive culture and well-being is complex and will never be finished."
See the full Positive Culture and Well-being Report.
Updated on Wednesday, November 07, 2018.