HWDSB shares anti-bullying resources during awareness week
Media Release
For Immediate Release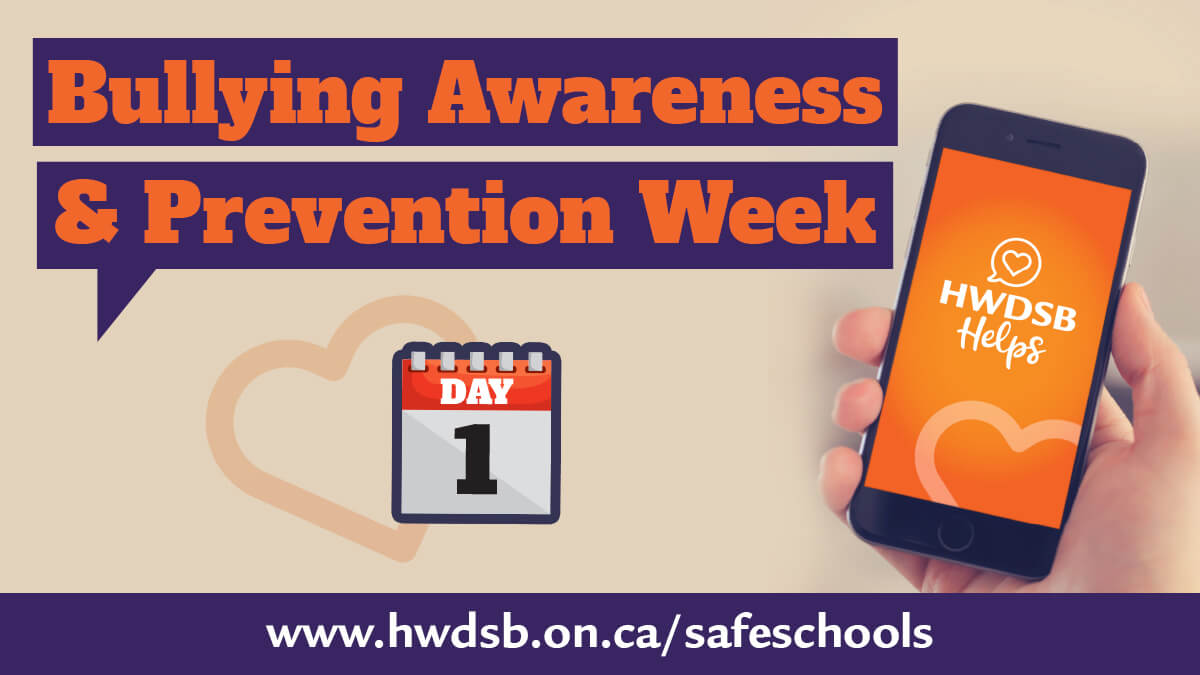 Hamilton, Ontario – November 22, 2021: HWDSB continues its commitment to anti-bullying work and shares new resources with schools during the provincial Bullying Awareness and Prevention Week (November 21-27).
HWDSB staff have developed a series of themed lessons that educators can deliver in classrooms during the week. Lesson topics include: Understanding Power, What is Bullying?, and What if I am Bullied?
We will keep the conversation going throughout the school year, with additional topics such as: Being an Upstander, Intent vs Impact, Cyberbullying, and Two Spirit and LGBTQIA+ Allyship.
"Bullying awareness and prevention must happen every day," said Sharon Stephanian, Superintendent of Student Achievement, Student Well Being and Safe Schools Action Plan. "Discussing and learning about bullying must continue all year long."
See a family resource to reinforce these lessons, posted online.
Hamilton Tiger-Cats
HWDSB appreciates and values the support of students, parents/guardians/caregivers and community as we tackle bullying together. The Hamilton Tiger-Cats will help HWDSB students and families tackle bullying during this year's Bullying Awareness and Prevention Week.
Two Ticats are co-hosting virtual workshops for HWDSB students to support this important recognition week – one more way we can help students, families, staff and communities be safe in our schools.
TELUS Wise
HWDSB is partnering with the Hamilton Tiger Cats and TELUS on an educational program about how the internet impacts healthy relationships. TELUS Wise uses interactive workshops and resources on smartphone safety and security to help Canadians of all ages be positive digital citizens.
For example, the virtual workshop "TELUS Wise footprint" helps students in grades 4 to 6 learn how to be good digital citizens with clean digital footprints. It explores the notion of doing the right thing online, how to deal with cyberbullying, and more.
Safe Schools Action Plan Update
After the tragic death of Devan Bracci-Selvey, HWDSB trustees created the Safe Schools: Bullying Prevention and Intervention Review Panel to gather qualitative and quantitative community feedback, summarize research and create recommendations for HWDSB, the Hamilton community and government to address bullying.
Now, work is underway to shape and implement the Safe Schools Action Plan with students, families and community partners. This has involved the creation of three groups to inform this work from the perspective of students, families, and community members.
One major theme in this work is the importance of supporting healthy relationships. Students and staff would have seen this focus in the back-to-school supports of Reimagining Wellness; watch for more developments on socio-emotional supports in the months ahead.
We are encouraging students to report bullying, because we all care about those involved. When bullying happens, talk to a caring adult, at school or at home.
Use the free and anonymous HWDSB Helps service by text to 905-963-0066, the app for iOS and Android, or by web chat. Call 911 in case of emergency.
Please learn more and see resources for students and families on our Safe Schools web page.
– 30 –
Media Contact:
Shawn McKillop, APR
Manager, Communications and Community Engagement
Cell: 905.515.6227 | Email: smckillo@hwdsb.on.ca
Updated on Friday, November 19, 2021.