HWDSB honours Mental Health Awareness Week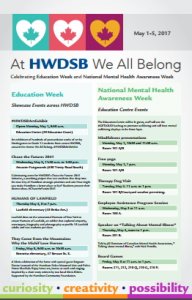 National Mental Health Awareness Week is in full-force at HWDSB.
HWDSB participates in National Mental Health Awareness week as part of its overall task to raise awareness of mental health and wellness by implementing sessions and activities at both board and school-levels.
"We, as all boards in Ontario, put our focus on having mentally healthy classrooms and mentally healthy schools," says Dr. Janice Tomlinson, Superintendent of Leadership and Learning. "We want to make people aware of how to promote mental health and wellness in schools, classrooms, and buildings."
HWDSB focuses on the core conditions of well-being, which raises awareness on a tiered basis. National Mental Health Awareness week works at the tier one level, emphasizing what everybody needs to know and understand about mental health and wellness. Tier one highlights Social Functioning and Social Communication, Safety, Self-regulation, Flexibility and Adaptability, and Inclusion, Belonging, and Acceptance.
Mindfulness is another aspect HWDSB concentrates on this week and throughout the school year as part of the MindUP curriculum, which premise lies behind being mindful of yourself to focus learning in the classroom.
Mental Health and Wellbeing School Liaison Representatives at each school have incorporated mental health awareness through various activities, lessons, and events. Awareness sessions are also being held at the board location from May 1-5.
Learn more about these events.
Updated on Wednesday, May 03, 2017.