HWDSB Continues Progress in Student Well-Being
Hamilton, Ontario – March 9, 2020: Hamilton-Wentworth District School Board (HWDSB) continues work to build student and staff well-being by implementing its new mental health and equity plans.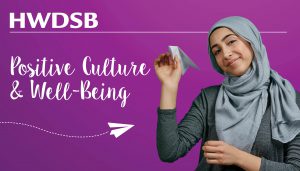 The Positive Culture and Well-being Report at Program Committee at February 20 summarized 2018-19 work, including forming an HWDSB Mental Health Strategy and an HWDSB Equity Action Plan.   Priorities have included educating staff on emotion coaching, conducting a staff census, exploring Indigenous Cultural Safety alongside the local Indigenous community and more.
It also looks forward at the opportunities ahead as HWDSB explores new strategies and plans to increase the number of students and staff who feel safe, supported and accepted.
"School should be a safe, accepting and welcoming place for everyone," said Manny Figueiredo, Director of Education. "HWDSB's Positive Culture and Well-Being Report outlines the specific actions we are taking to ensure that students and staff are able to access their human right to education. We acknowledge that we have challenges and we are committed to working through these challenges to support all our students"
Staff have learned a lot from their work in this area in 2018-19, including the efforts our staff undertake to be caring adults in our schools, the value of ensuring HWDSB staff reflect the diversity of our wider community, and the need to honour the voices of students, families and staff in our equity and mental health work.
HWDSB looks forward to continuing professional development with staff in the areas of Emotion Coaching, anti-racism/anti-oppression training and Indigenous Cultural Safety in the near future.
This year, the Positive Culture and Well-Being Report merged with the Safe Schools Monitoring Report, which details suspensions and expulsions. Safe schools work – built on the action plans for mental health and equity – has focused on bullying prevention and intervention since October, 2019.
HWDSB invites the community to tell us how schools can address the challenge of bullying, through the sessions scheduled with the Safe Schools: Bullying Prevention and Intervention Review Panel.
-30-
Media Contact:
Shawn McKillop, APR
Manager, Communications and Community Engagement
T: 905.527.5092 x2941 C: 905.515.6227
Updated on Monday, March 09, 2020.