Celebrating Partners who Enrich Student Learning and Lives
By ROB FAULKNER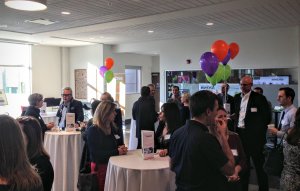 When it comes to giving students outstanding support and opportunities, educators can't do it alone, partners heard at HWDSB's annual Community Partner Appreciation Event.
The Oct. 25 event at the Education Centre welcomed more than 100 partners who support HWDSB students. It was a thank you and a chance to strengthen the ties that unite groups who work together for the benefit of students.
Partnership is one of the five priorities in the new vision at HWDSB as the Board vows to strengthen collaboration with new and existing community partners to enhance opportunities for students.
"We have really elevated partnerships to a high level, saying 'this is something that is very important to us,'" Board Vice-Chair Jeff Beattie said. HWDSB strives to deliver a world-class education but must admit that "we can't do it alone."
Director of Education Manny Figueiredo said that "20 years ago we could only dream about having this many partners to wrap around our most important goal, having all students graduate."
Because graduation so dramatically improves life chances, he said, it is really a goal that the entire city can support. HWDSB is a big contributor to graduation, but doe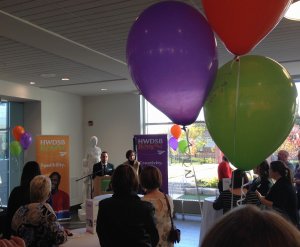 sn't "own" the graduation rate. "It is an important measurement for our entire city. It is the ultimate goal."
The event drew a long list of HWDSB partners, big and small, including the City of Hamilton, Mohawk College, McMaster University, Hamilton Best Start, Hamilton Health Sciences and dozens more. Organizers said the list is so long that the event only scratched the surface of the complete list of HWDSB partners.
After visitors enjoyed the sounds of the Westmount Jazz Ensemble, remarks included two different views of community partnership. From the City of Hamilton, Al Fletcher, manager of the Neighbourhood Action Strategy, spoke about the 1.2-hectare McQuesten Urban Farm near Hillcrest elementary. The farm's community build event in the spring involved staff and students from Sir Winston Churchill secondary as well as Hillcrest elementary. He was amazed at how helpfuls students have been in its creation.
A teacher also shared a student's story of his first-hand experience working alongside two partners, Bienenstock Playgrounds and McQuesten Urban Farm. Dallas Osborn, a student at Sir Winston Churchill, did a co-op placement last year with Bienenstock Playgrounds as they helped create the outdoor space at McQuesten Urban Farm. His placement experience received the support of Churchill tech teacher Joachim Vallentin, who spoke on his behalf.
To close, Superintendent of Leadership and Learning Sharon Stephanian shared her sincere appreciation and invited partners to visit the wall banner and add their thoughts, using flower cards, about how they help grow curiosity, creativity and possibility in our students.
She also told a story of how a partnership formed this fall. A while back, a young employee at a dollar store saw some elementary school students shoplifting. Staff pulled the students aside to speak with them about what they had done. Then it became clear what, and why, they were stealing.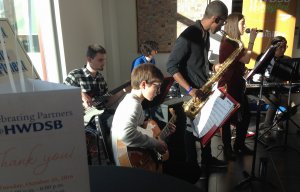 "They opened their backpacks and saw school supplies," Stephanian said. "The students explained that they wanted to go back to school with school supplies like everybody else."
In response, the dollar store staff person created a crowdfunding campaign to buy school supplies for students who need them; she is working with an HWDSB school and has established a lasting partnership that is helping students arrive, ready to learn.
"We just never know where a partnership is going to come from."
Updated on Wednesday, October 26, 2016.