Help Elevate HWDSB's Strategic Directions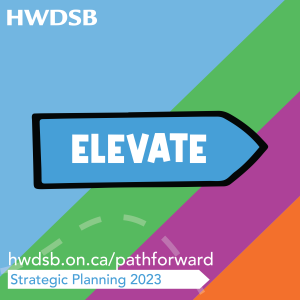 Hamilton-Wentworth District School Board (HWDSB) is in the process of planning new Strategic Directions that will identify future values, priorities and goals. Planning a new path forward starts with you!
We are currently in the 'Elevate' phase, which runs from September 2023 to December 2023.
Click here to share your feedback on HWDSB's Strategic Directions.
Elevate – September to December
Youth engagement activities will be used to execute the directions and inform staff and school teams about strategic actions
Community members will have an opportunity to share thoughts and feedback on draft Strategic Directions through EngageHWDSB
Trustees will approve HWDSB's new Strategic Directions at the Board meeting on October 2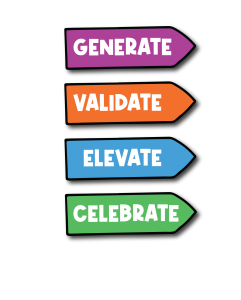 New Path Forward in Four Phases
Generate (March – June)
Validate (July – August)
Elevate (September – November)
Celebrate (December – January)
Generate
HWDSB will invite communities to connect through purposeful conversations about what students need to be future-ready. Engagement activities will be coordinated for optimal participation with youth, Indigenous, and equity-deserving communities.
Additional activities include:
A community-centred Listening Tour and participation activities
Civic Lottery for board supporters and students
Engage HWDSB project to hear feedback and define values/themes
The Board of Trustees will approve a new vision/mission statement, values, and priority areas that will guide HWDSB through several years. The Direction of Education will then celebrate a new chapter at HWDSB with a renewed sense of purpose and promise to more than 50,000 students in Hamilton.
Validate
Trustees review and define themes and insights, approve values, priorities and goals, ready to share for the start of the new school year.
Elevate
Youth engagement activities will be used to execute the directions and inform staff and school teams about the strategic actions.
Celebrate
Board Annual Plan will be launched and celebrated within the new strategic directions.
All students deserve the best education possible. HWDSB is looking forward to seeing how we can set the directions that will allow us to better support every child and ensure they all feel welcome. Planning a path forward will reinforce that we are proud to be HWDSB!
For full details about the Multi-year Strategic Plan 2023-28, please visit our Strategic Planning webpage.
Updated on Friday, September 15, 2023.