HWDSB is Planning a New Path Forward
It's time for HWDSB to set new Strategic Directions that will identify future values, priorities and goals for our system. Planning a new path forward starts with you!
Trustees will be seeking feedback and input from HWDSB communities on where HWDSB need to focus and invest to improve student well-being, learning and overall success.
HWDSB will build on its work related to human rights to create new goals using an anti-racism, anti-oppression and anti-colonial stance.
We are designing engagement activities for students, families, staff and communities to gather diverse voices for this important work.
All students deserve the best education possible. HWDSB is looking forward to seeing how we can set the directions that will allow us to better support every child and ensure they all feel welcome. Planning a path forward will reinforce that we are proud to be HWDSB!
---
Co-Design Workshop: The co-design workshop will be a 4hr workshop that will include different members of the HWDSB schools and broader community (eg. community organizations, students, staff, family members etc,). Through facilitated activities the workshop will generate ideas around a collective vision that will help guide the direction of the HWDSB strategic plan.
The application is open to the public and selection will be based on an adapted civic lottery. No previous design or creative experience required!
Workshop Details:
Workshop date: May 13th, 10am – 2pm, lunch provided!
Location: In-person, Hamilton Central Library (55 York Blvd)
Compensation: $150 honorarium, per person
Application Details:
Application Deadline: April 26th at 11:59pm
Application Results: May 1st via. email
Apply for the co-design workshop HERE
Youth Ambassadors: A total of 4-5 Youth Ambassadors will be selected from the co-design workshop application process. Youth Ambassadors, with training, support and a "Pop-Up Kit", will act as an extension of the engagement team, facilitating their own pop-ups to collect feedback in their schools from their peers.
The ambassadors will receive an honorarium, attend the co-design workshop, attend a training session and will receive materials and ongoing support from the engagement team. Findings of their Pop-Ups will be shared in a summary video report and help inform the new Multi-Year Strategic plan.
Youth Ambassador Details:
Attend one (1) Co-Design Workshop
Attend (1) Youth Ambassador onboarding and training session
Run in-school Pop-Ups in May (1-2 events, 1-2 hours each)
Engage with at least 50 students
Contribute your findings to create a video report!
Compensation: $400, this includes attendance to the Co-Design Workshop
Community Lead Pop-Ups: "Pop-Up Kits" are available for interested organizations and groups to lead their own activities to further generate ideas on the values and principles that should inform the new Multi-Year Strategic plan. Community organizations and groups will be provided with a resource package containing all the necessary Pop-Up materials, empowering them to host a small event or facilitate a discussion and collect input.
In order to support the success of their Pop-Up, community organizations and groups will have the opportunity to schedule a call with our engagement team for a Pop-Up guidance and orientation.
Organizations and individuals are invited to reach out to hello@SAFFY.ca if they wish to host one in their own community.
Survey: The Strategic Planning Survey is now open for all members of the Hamilton-Wentworth District School Board to provide input into the Multi-Year Strategic Planning process and help shape the future of the school community. This survey will be designed to be easily accessible, be available in different languages and be available for completion at any time that is convenient for participants. By offering this opportunity for feedback, we hope to gather a diverse range of perspectives and insights from across the HWDSB community.
Public Meeting: There will be two public meetings open to the public and all members of the Hamilton-Wentworth District School Board. These meetings will mark both the early and later stages of the strategic planning process . The meetings will provide an opportunity to learn more and ask questions in an open forum leveraging creative online tools to invite participation and input. We anticipate the first public meeting will take place in June, and a second public meeting will take place in the fall of 2023.
HWDSB is receiving help from a team of strategic planning specialists and innovative thinkers to support this journey. Effective strategic planning articulates where an organization is going, defines the actions needed to make progress, and provides a framework to assess its success.
---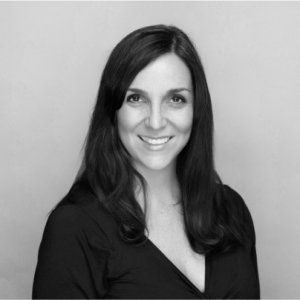 Ruth Silver
Ruth Silver is the founder of Groundswell. She has spent 20 years engaging in deep listening with diverse communities across sectors on systems change projects. Her work aims to deconstruct cultural, structural and institutional barriers so that we may collectively shift our belief of what is possible. Ruth is a visionary thinker, creative problem-solver, strategic implementer and collaborative leader.
Nadia Galati
Nadia (they/them) has been working as an urban planner, designer and engagement specialist for over 10 years. They are passionate about applying innovative methods to address urban, cultural and policy issues through sound analysis, action, and recommendations for decision makers in government, private and nonprofit sectors. Nadia has led multi-disciplinary teams and complex projects from conception to implementation, with a focus on public and stakeholder engagement, qualitative and quantitative research, human-centered design, placemaking, evaluation and policy development. Nadia leads Saffy; an interdisciplinary and collaborative team of planners, strategists, writers, designers and communication experts working at the intersections of people, culture and city-building.
Josie Fung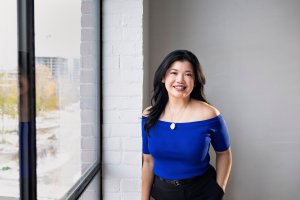 Josie Fung is the Executive Director for I-Think, a charity born from the Rotman School of Management at the University of Toronto with an education mandate. Here with her team, they are exploring mechanisms for system change in education. I-Think believes that when you bring real-world problem solving to classrooms, you can shift the learning experiences for young people from being simple answer finders, to tenacious, optimistic and confident problem solvers. Josie is a dynamic leader with a passion for bringing unlikely collaborators together.
The intention of this list is to provide clear and consistent answers to frequently asked questions regarding the Hamilton-Wentworth District School Board (HWDSB) strategic plan. Additional FAQs will be added throughout the duration of the strategic planning project to ensure messaging remains accurate, transparent and consistent.
What is Strategic Planning?
Strategic planning is goal setting and goal mapping for a school board. A strategic plan must identify goals that are consistent with the organization's overall vision. A successful strategic planning process should provide answers to three main questions:
Where are we now?
Where do we want to be?
What do we need to do to get there?
The difference between "Where are we now?" and "Where do we want to be?" is those objectives and actions identified when considering "What do we need to do to get there?"
Strategic planning is an organizational activity that is used to:
set priorities
ensure equity of access and in outcomes
focus energy and resources
strengthen operations
ensure that employees and other stakeholders are working toward common goals
establish agreement around intended outcomes and processes for monitoring results
assess and adjust the organization's direction in response to a changing environment
How is a Multi-Year Strategic Plan made? How will the Plan be used?
There are many ways to participate in helping create HWDSB's new Strategic Directions: through a codesign workshop, school pop-ups, survey, small group and one on one conversations in person, online and on paper. We are interested in you and your experience of what's working well and what's missing, your vision for education and whatever you'd like to share with us. 
From what the community shares, we will reflect back to you the story of your values, what you want to work on together, where you hope to go and what you will commit to get there.
Your Multi-Year Strategic Plan is a living document; it will be revisited on a regular basis to track progress and is adjusted based on how the organization is meeting its goals using agreed upon metrics.
What is a Co-Design Workshop?
The Co-Design Charette for the Strategic Planning process will be an interactive and collaborative workshop where everyone has a chance to contribute their ideas, share local knowledge and come up with a collective vision guiding the direction of the HWDSB strategic plan.
There will be an open public invitation for people to participate in the Co-Design Charette and selection will be based on an adaptive Civic Lottery.
The Co-Design Workshop is not the only way to get involved in having your say in the strategic plan. We will be creating many opportunities for the communities' voices to be heard. For more information on ways you can participate and stay informed, please visit HWDSB's Strategic Planning webpage.
What is an adaptive Civic Lottery? How will it be used for this project?
An adapted Civic Lottery will be used to select participants for the co-design charrette and Youth Ambassadors. Civic Lotteries are often used by municipal governments to bring communities together and find solutions to a common issue.
Civic Lotteries are equitable and democratic methods to randomly select participants to present their diverse communities.
The selection process is adapted to ensure the group represents the demographic makeup of the surrounding area and equity deserving populations. Random selection is based on the adapted parameters to ensure the final group reflects the community and priority groups.
To ensure that the adapted Civic Lottery is inclusive and representative, we will first establish the baseline demographics of the school district and student population. This will help us determine the number of people and identities that need to be represented. We will use this information to form the initial make-up of the group. Then, we will review the demographic parameters to identify underrepresented groups in collaboration with HWDSB and based on priority groups and desk research. In addition to considering demographics (age/race/gender etc.) we will also consider users (i.e.: students, parents, members of community organizations and community groups and advisory groups etc.).
How will existing advisory groups be involved in this process?
We have taken a proactive approach to ensure that every existing advisory group has a voice in the Co-Design workshop. We have included a representative from each group who will actively participate in the workshop and be fully supported by a member of our Communications and Community Engagement team. This way, their valuable feedback will be heard and considered in the visioning process, and they will be able to report back to their respective groups during their regular advisory meetings.
---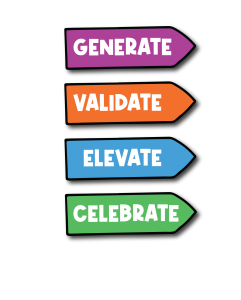 New Path Forward in Four Phases
Generate (March – June)
Validate (July – August)
Elevate (September – November)
Celebrate (December – January)
Generate
HWDSB will invite communities to connect through purposeful conversations about what students need to be future-ready. Engagement activities will be coordinated for optimal participation with youth, Indigenous, and equity-deserving communities.
Additional activities include:
A community-centred Listening Tour and participation activities
Civic Lottery for board supporters and students
Engage HWDSB project to hear feedback and define values/themes
The Board of Trustees will approve a new vision/mission statement, values, and priority areas that will guide HWDSB through several years. The Direction of Education will then celebrate a new chapter at HWDSB with a renewed sense of purpose and promise to more than 50,000 students in Hamilton.
Validate
Trustees review and define themes and insights, approve values, priorities and goals, ready to share for the start of the new school year.
Elevate
Youth engagement activities will be used to execute the directions and inform staff and school teams about the strategic actions.
Celebrate
Board Annual Plan will be launched and celebrated within the new strategic directions.
Updated on Friday, September 15, 2023.