HeadstART Students Get "Curiouser and Curiouser" with Live Alice Production
By ROB FAULKNER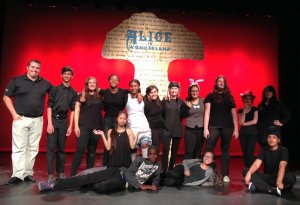 Their final assignment began when the curtain rose.
The live production of Alice in Wonderland was the culmination of four weeks of intensive arts education for the 16 headstART students earning a Grade 9 arts credit at Sir John A. Macdonald Secondary School.
In their first two weeks of the headstART Reach Ahead course, they learned the basics about dance, drama, music and visual art. They learned to collaborate and think more creatively.
Then they began to practice dialogue, attend Fringe shows and perform monologues. (One monologue the students loved was Isabella's portrayal of a wife in I Ate the Divorce Papers.) They learned how to edit scripts, and examine the elements of great storytelling.
Then they chose their next big step – putting on their own live theatre production.
"After much debate, the students decided to retell the magical story of Lewis Carroll's Alice in Wonderland," teacher Luke Bramer said.
The students chose production roles and, with a meager budget of $200, got to work. They pared down the script from 60 to 25 pages; they designed and built the set, costumes and props; they auditioned and were cast in roles and then began rehearsals.
"It was a lot of hard work," said Meaghan, who is going into Grade 9 at Glendale this fall.
In the final week, students rehearsed for their final showcase. For many students, it was the first time they had designed a costume, built a set, worked a sound or lighting board, or even acted on stage.
Bramer says some lines from the play resonated with the busy student crew – especially "We're all mad here" – as they hurriedly worked on their challenging creative undertaking.
Were the students nervous? Certainly. But students developed their own ways of preparing. Salam dazzled her peers with her ability to remember her lines as Alice. The memory app Quizlet helped, she says.
Nearly every student played two roles – Jazmen was the Doormouse and the Executioner; Nova was the Eaglet Bird and Tweedle Dee; Isabella was the White Rabbit and the Left Foot. Farsad was just as busy with technical duties behind the scenes.
The show, for an intimate gathering of friends and family in the SJAM auditorium, was great. And the students had bonded as team thanks to the challenge of their final test.
Enjoy a video capturing the headstART experience here.
Updated on Monday, August 08, 2016.