Hamilton Community Foundation and HWDSB Share Pandemic Education Research Project Report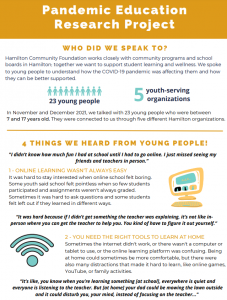 As part of the education initiative by Hamilton Community Foundation (HCF), ABACUS (Advancing Post-Secondary Access), the Pandemic Education Research Project was created to understand the effects of the pandemic on Hamilton youth.
In partnership with Hamilton-Wentworth District School Board (HWDSB), HCF wanted to learn how young people experienced online programming and how they connected with their community, their peers, and adult role models during the pandemic. It also wanted to know what supports worked best for youth during the pandemic and where there were gaps in support. This information helps youth-serving groups in Hamilton serve children and youth better.
During November and December 2021, two researchers spoke to children and youth across Hamilton. In total, the researchers met with 23 young people from five different organizations. These 23 participants ranged in age from 7- years-old to 17-years-old. Three of the focus groups were held in person and two were held online using the Zoom platform. Which school board participants were from was not identified.
There were also two focus groups held with program staff of non-profit youth serving organizations by a researcher over Zoom. A total of 12 program staff representing 11 organizations participated.
Click on the PDF below to explore results from the Pandemic Education Research Project. The Final Report breaks findings down into the following categories:
Online Learning and Programming (Engagement, Academics, Learning Environment)
Social Connection (Peers, Adults in the Community)
Community Supports & Student Wellness (Community Programs, Student Wellness)
What Could We Think About Next?
The Final Report (Youth Version) can also be found below, which presents the same findings in a manner that is more approachable for children and youth.
Pandemic Education Research Project – Final Report
Pandemic Education Research Project – Final Report (Youth Version)
Updated on Tuesday, July 05, 2022.