Actor/Comedian Gerry Dee Surprises Janet Lee Kindergarten Class with Virtual Visit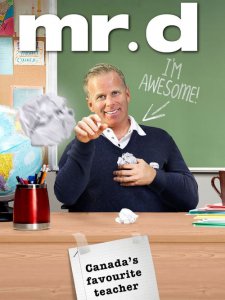 Last week, a lucky Kindergarten classroom at Janet Lee Elementary School was surprised with a virtual visit from Canadian actor/comedian Gerry Dee.
"My initial reaction was to run to my husband and my kids in the other room in disbelief," explained Maria Merla, Janet Lee educator. "We were all thrilled to speak with him. My dog Rusty was barking loudly sensing our excitement and wondering what this commotion was about!"
The story begins on Wednesday, January 5 when Dee sent out a tweet to his 230,000 followers offering to say hello to some remote classrooms. That is when Janet Lee Kindergarten educator Christine Stephen jumped on the opportunity.
"We are huge Gerry Dee fans at our house! Our whole family had tickets to see him live in April of 2020 and then of course, the world shut down and we missed out," said Stephen. "A friend sent me a screenshot of Gerry's tweet so I decided on the spot to join Twitter and reach out to him directly. I never thought in a million years he would read it."
Dee, who is the current host of Family Feud Canada on CBC, is a former educator himself. In fact, his previous CBC sitcom, Mr. D, is based on his experiences teaching physical education in secondary schools for ten years.
Dee eventually left that career in 2003 to pursue stand-up comedy and went on to create, write, executive produce and star in the popular television series that ran from 2012 to 2018. Despite his successes in the entertainment industry, his offer to visit these remote classrooms shows that he has not forgotten about his passion for education.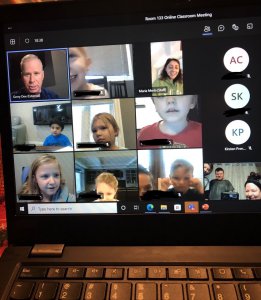 When Stephen woke up the next morning, she noticed that she had a new follower on her recently-made Twitter account: @gerrydee. She avoided getting her hopes up, but within five minutes of the start of the class, Stephen saw Dee waiting in the MS Teams lobby and allowed him to join.
Stephen and Merla explained that the Kindergarten students did not initially know how to react. Many were still greeting each other and wondering why the staff members were so excited.
"Our class was pretty confused and they didn't know who he was at first," said Merla. "He made light of the situation by asking them to guess who he was. An astronaut? A doctor? Or an actor? It was very nice of him to come and lighten up the day and bring some laughter!"
Both educators agreed that Dee could not have been more kind during the visit and appreciate him taking the time out of his schedule to surprise students and school staff. The actor/comedian even recorded a portion of the virtual visit and shared it to his Twitter feed.
Watch the fun clip below:
Here's a portion of me talking to @vedderaddict Junior Kindergarten class in Hamilton.

As expected, the kids had no clue who I was. pic.twitter.com/jGsBt5igxN

— Gerry Dee (@gerrydee) January 6, 2022
Shifting to remote learning following the holiday break presented its fair share of obstacles for students, staff, and families across Ontario. Despite the challenging moments, HWDSB classrooms continue to be exciting places when children and youth can come to learn, and sometimes, brush virtual shoulders with celebrities!
When asked for any advice to give to students, staff, and families during this period of remote learning, Stephen shared a wonderful message.
"My advice is the same during virtual learning as in person, which is to look for the joy! There is joy in everything if you're open to seeing it. Maria and I always tell our families to give themselves some grace, this is an extremely trying time and we need to give ourselves that. Our goal as an FDK (Full-Day Kindergarten) team is to make virtual learning a place where our students can forget the stress of the pandemic and have some fun!"
Updated on Tuesday, January 11, 2022.