Five Reasons You Should Apply to Focus on Youth 2022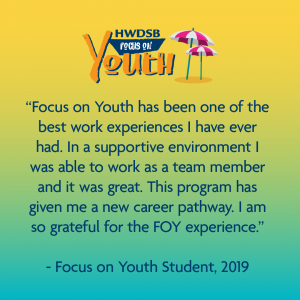 Looking for that perfect first summer job? Hamilton-Wentworth District School Board (HWDSB) has a program for you! Focus on Youth (FOY) is a summer work opportunity for HWDSB students in search of valuable work, leadership, and soft-skill experience within the Hamilton community.
Applications for Focus on Youth 2022 are now open:
Still on the fence? The Focus on Youth team has shared five reasons why the program is the right fit for summer 2022.
Reason #1: Exploring Interests in a Workplace Setting
With diverse placement options, Focus on Youth students can explore passions, skills, and future careers paths related to their interests. Our program's areas of focus are:
Literacy,
Numeracy,
STEM,
Community engagement,
Horticulture,
Sport/recreation,
and art/culture-based,
Workplace, leadership, and soft-skill training.
Students are placed with agencies that match their interests and strengths. Past placement favorites have been McQuesten Urban Farm and Hamilton's Victory Garden, where students help grow and maintain community gardens around the City of Hamilton.
"This summer I had the opportunity to work at Victory Gardens and McQuesten Urban Farm. Throughout the summer I was able to visually see how the work I was putting in was making an impact. I harvested the kale and tomatoes, I watered, and I watched the squash I planted sprout. Seeing this made me feel quite accomplished."

– Focus on Youth Student, 2021
Reason #2: Making Meaningful Connections in the Community, with FOY Peers, and Lead Staff
The Focus on Youth program is built from a foundation of support and community connectiveness. Not only do we partner with local non-profit agencies for our student placements, but we consider our Focus on Youth program a community as well. Through student socials and weekly learning communities, students receive continuous support from peers, program leads, and placement staff.
"My favorite thing about the program has been connecting with all the people. Everyone is super nice at my placement and within the Focus on Youth Program"

– Focus on Youth Student, 2021
Reason #3: Gain Valuable Employment Training
Focus on Youth is not a one-hit-wonder when it comes to employment training – we strive for a continuous learning structure within our program. Through weekly challenges, a paid pre-employment training week, learning communities, and a five-week paid placement, FOY students can develop their employment and soft skills throughout the entirety of the program, while receiving guidance from program monitors along the way.
"Focus on Youth is super awesome for students that are looking for their first job. The support you get from Focus on Youth is amazing."

– Focus on Youth Student, 2021
Reason #4: Explore Mindfulness and Mental Health Strategies
Mental Health awareness and mindfulness strategies are a big focus of the FOY program. We understand the importance of breaking down barriers, eliminating stigma associated with mental health, and providing a toolkit for students to navigate daily stressors. Mindfulness training, weekly check-ins, and mental health programs (Youth Mental Health and Addictions Champion program) are important pillars of the FOY program.
"This summer, I took a lot of time to care for my mental health. I have never really taken the time to care for my mental health in depth before"

– Focus on Youth Student, 2021  
Reason #5: The Beginning of Job Experience
For many past students, the Focus on Youth program is one of the first steps taken with summer employment. Thus, life skills associated with finances, managing a work life balance and access to "next steps" regarding fall employment is essential for the program. Focus on Youth students will be attending Learning Communities with financial guest speakers, participating in mindfulness activities, and attending career events for future job interest.
"This has been one of the best summers I have ever had in my life. I cannot believe it has already come to an end! I am glad that I was able to gain so much experience as well as more knowledge that will definitely help me in my next chapter of life"

– Focus on Youth Student, 2020
Applications for Focus on Youth 2022 opened May 23, 2022. We ask all applicants to follow the submissions instructions indicated on the FOY webpage. Application deadline is June 10, 2022. Our Focus on Youth team here at HWDSB is excited for the 2022 program and hopes to see you!
Updated on Wednesday, July 27, 2022.