Elementary Music Students Unite for Minds On Workshops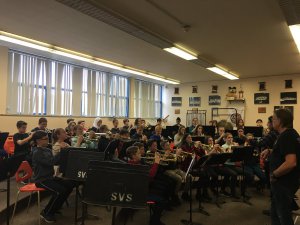 More than 500 music students from across HWDSB came together at Glendale secondary for two days in November to do what they do best – create music!
Music students in the HWDSB Program of the Arts at Glendale secondary hosted the first annual HWDSB Minds On Repertoire: Elementary Band Workshop days, with musicians from Bellmoore, Elizabeth Bagshaw, Glen Brae, Lake Avenue, Sir William Osler, Spencer Valley, Tiffany Hills and Winona elementary schools.
Elementary students learned or reinforced techniques unique to their instruments, thanks to instrument-specific sectional workshops led by HWDSB music teachers or local professional musicians and assisted by students in the HWDSB Program of the Arts.
The elementary musicians worked on the piece Junkyard Jam and then came together under the baton of Paul McGoveran from the Hamilton Concert Band to rehearse and then record the piece of music.
Students finished with a snack and left Glendale to enjoy their new set of ear buds and a school copy of the recording, thanks to the Glendale Arts Parents Council, Karen Wilkinson and community partner Long & McQuade Instrumental Services.
Staff saw great examples of learning, co-operation, performing and listening during both of the Minds On days. With the amount of interest, they hope to expand the event next year.
Updated on Sunday, December 03, 2017.