Director's Holiday Message to the Community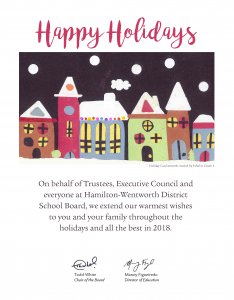 We are entering a special time of year when families gather to celebrate across many faiths, cultures and traditions.
This year, I am honoured to be able to share some outstanding holiday artwork by Eshal Nadeem, who is in Grade 5 at Tiffany Hills. Her winning submission will bring her class a pizza party in the new year.
This year, HWDSB continued to implement the ambitious new vision and priorities developed through HWDSB Reimagined. We revised our Board annual plan so that there are clear, concrete targets for each of our five priorities: Positive Culture and Well-being; Student Learning and Achievement; Effective Communications; School Renewal; and Partnerships.
With our schools about to grow quiet, I hope you enjoy a rest in the days ahead. I hope that you can strengthen positive relationships – and your own well-being – in a way that brings you happiness and good health.
My heart goes out to those who find the holidays a difficult time and those who need comfort.
Have a wonderful holiday season and a happy New Year.
Sincerely,
Manny
Updated on Thursday, December 21, 2017.