Depaving Day a Success at Adelaide Hoodless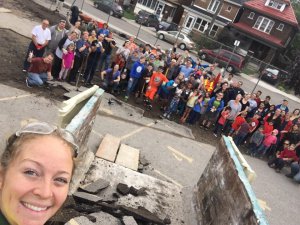 The sounds of pry bars, sledgehammers and elbow grease filled the play area at Adelaide Hoodless elementary this weekend, as a record-setting crowd of volunteers helped to depave the playground.
More than 80 volunteers helped the central Hamilton school remove 2,250 square feet of asphalt in less than three hours to clear an area for planting.
Principal Nanci-Jane Simpson said this was the largest depave ever undertaken by Green Venture Hamilton, and the largest turnout of volunteers at any of the Green Venture Hamilton depaving events. Green Venture is funded by the Ministry of the Environment and Climate Change.
"I had to go in at least three times to make additional copies of the waiver forms," she said. "Overall, it was a highly successful, fun, and inspiring day. It demonstrated what community is all about."
After being trained in safety, participants were required to wear steel toe caps, gloves, and safety goggles. At times, depaving stopped so that even children could put on gloves to enter the work zone and remove small pieces of asphalt as parents supervised.
Helpers on the project included the downtown YMCA youth leadership group, the school's public health nurse, the school's Tastebuds contact, HWDSB Trustees Ray Mulholland and Larry Pattison and city councillor Matt Green.
The school is now looking forward to its planting day on October 28.
Updated on Tuesday, October 17, 2017.