Breaking Ground for the new elementary school at the Summit Park development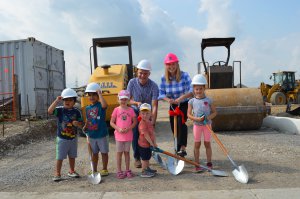 A few helpers joined HWDSB trustees Alex Johnstone and Jeff Beattie, as well as Superintendent Jeff Gillies and Sr. Manager of Facilities Services David Anderson, to break ground commemorating the new elementary school in the Summit Park development.
These future students of the school captured our hearts as they enjoyed being part of the special milestone celebration. The new $14.8 million, 625 pupil place elementary school near Keystone Cres. and Bellagio Ave. will relieve accommodation pressure in Stoney Creek, including a 3-classroom childcare facility (Infant, Toddler and Preschool).
The 18-classroom facility will have a dedicated Art, Music and Science Room, 5 Full-day Kindergarten classrooms, a learning commons and a gymnasium with stage.
Updated on Thursday, August 16, 2018.