Art Exhibit Celebrates New Children's Rights Charter
By Rob Faulkner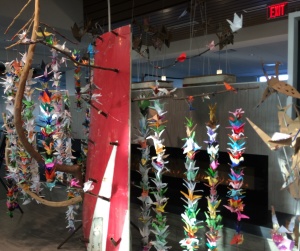 Each of the 1,000 paper cranes hanging in the Education Centre foyer this month hides a right deeply valued by the child who folded it.
And together, these ancient Japanese symbols for good luck form a beautiful exhibit that captures the contribution local children made to the new document, Hamilton's Charter of Rights of Children and Youth.
"I have the right to good food, and warm, clean clothes… to have breakfast before I go anywhere," reads one right.
"I have the right to a healthy earth to live on… to have clean air," reads another.
To review the 15-year-old Hamilton-Wentworth Children's Charter of Rights, the Hamilton Best Start Network partnered with Culture for the Kids in the Arts and Art Forms Youth Art Studio. This helped engage thousands of students in discussions about rights and responsibilities – often through partnerships housed in HWDSB schools, such as Focus on Youth, YMCA, Today's Family and more.
"This was an extremely successful engagement and consultation," explained Victoria Long-Wincza, Culture for Kids in the Arts program manager. The cranes were integrated with the Charter through the Artasia summer workshop. "When we add art as a vehicle to gather input from children, they are engaged and able to express themselves."
The broader charter project began with big questions like, what is a right and what do all children need? As 1,500 voices poured in, organizers sorted the comments by theme, discovering patterns and creating a short-list of rights. This draft Charter was then shaped by hundreds more students who voted at Supercrawl and Telling Tales festivals.
"The Children's Charter is important because, as people who work with children and youth, it is an opportunity to support youth voice," said Mike Des Jardins, Supervisor of Engagement. "Children are not just the voice of the future – they are the voice of today."
The Charter Exhibit, on display at the Education Centre for February 2016, will this year head to Dofasco Recreation Centre, McMaster Children's Hospital, Hamilton Public Library Central Branch and other sites. Plans are in the works to spread its impact nationally, by having children and youth write leaders with information about rights to leaders across Canada.
The exhibit contains four items:
Charter of Rights of Children and Youth panels detailing rights and responsibilities.
A Children's Charter Book capturing the expression of rights, in words and drawings, by children age five and under.
'The Voices of Children Carried by a Thousand Paper Cranes' – the 1,000 paper cranes containing rights selected by children ages 6 to 12. They hang from a sculpture that artist Dave Hind created in partnership with Culture for Kids in the Arts
Child and Youth Charter Mosaic – Art created by youth ages 13 to 17 assembled into a collage by local artist Chris Andrade in partnership with Art Forms Youth Art Studio.
Learn more:
Hamilton's Charter of Rights of Children and Youth (PDF)
Charter Booklet – English (PDF)
Charter Booklet – French (PDF)
Charter Poster – English (PDF)
Charter Poster – French (PDF)
Updated on Monday, February 29, 2016.