2023-24 Student Trustee Applications Are Now Open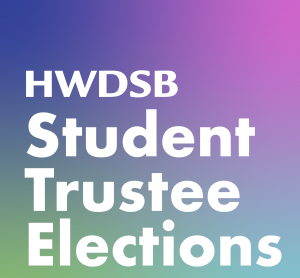 We are now accepting applications for the 2023-2024 Student Trustee Elections! The deadline to submit an application is January 26, 2023 by 4 p.m.
HWDSB is committed to hearing the voices of students through Student Trustees. Two Student Trustees for the 2023-24 school year will be selected through an election process. Student Trustees are members of the Board. Elected Student Trustees will represent student voice during board deliberations, participate in decision making, and communicate board decisions to student peers.
Please submit the Student Trustee Interest Form and Video Consent Release Form by the January 26 deadline to be validated for the election:
If you missed the January 12 Student Trustee Virtual Information Session, a recording can be viewed below, or on the HWDSB YouTube channel.
As with previous years, Shakowennakara:tats (Indigenous Student Trustee) will be raised through CC:ROSE. CC:ROSE is a student-led community for Indigenous learners who want connect with each other through unique cultural opportunities and by sharing their voice as Indigenous youth across HWDSB. Further information regarding this process will follow.
Click here to learn more about Student Trustee Elections.
Updated on Friday, January 13, 2023.