WATERPOLO: Waterdown makes history with championship victory over Westdale
HAMILTON (April 19, 2017) – The Waterdown Warriors edged the Westdale Warriors 3-2 to claim the school's first ever senior girls water polo championship.
Rachel Haunton opened the scoring for Waterdown with Madison Couture scoring the second goal.  The championship winning goal came in the fourth quarter from Waterdown's Julia Gooding. Cassie Woodhouse had both goals for Westdale in the loss.
The two schools had both tallied an 8-1-0 record with Westdale actually beating Waterdown in round robin play 4-1 back on April 6th.  Both programs were vying for historic victories with Waterdown seeking their first ever senior title, while Westdale was aiming to claim their 11th straight and 20th overall.
Ancaster High School doubled Sherwood Secondary 6-3 in the senior bronze medal game.  Katelyn Kennedy and Hannah Smith each tallied a hat trick with Smith notching the game winning goal in the third quarter.  For Sherwood Haley McComb had two goals in the loss while teammate Alainee Mitges had one.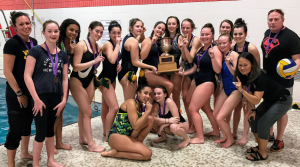 In the junior championship the No. 1 seeded Westdale Warriors topped the Dundas Valley Gryphons 7-2 to claim the school's eighth junior girls water polo title and first since 2013-14.  Sydney Woodhouse had four goals to lead the Warriors while Erin Anderson netted two and Alaysia Moore scored one.  Dundas Valley's goals came from Sierra Birthelmer and Evelyn Brown.
The junior bronze medal match saw Ancaster knock off Orchard Park in a 3-2 double overtime thriller.  Abigail Allison scores twice while Sophia Barrow netted the overtime winner. Kate-Lynne MacLeod and Moriah Colwell recorded the goals for Orchard Park in the loss.
HWIAC Girls Waterpolo Results
Senior Girls Waterpolo Results
April 19, 2017 – Hill Park Recreation Centre, Hamilton, Ontario
Gold Medal Game: Waterdown def. Westdale SS 3-2
Bronze Medal Game: Ancaster HS def. Sherwood SS 6-3
Junior Girls Waterpolo Results
April, 19, 2017 – Hill Park Recreation Centre, Hamilton, Ontario
Gold Medal Game: Westdale SS def. Dundas Valley SS 7-2
Bronze Medal Game: Ancaster HS def. Orchard Park SS 3-2 (2OT)
Stay Connected with HWDSB Athletics
For schedules, results and news visit: http://www.hwdsb.on.ca/athletics or follow us on Twitter @HWDSB_athletics​
Updated on Friday, April 21, 2017.