Quadmester Learning Model
The Quadmester is a change from the regular four-course model offered at HWDSB.
It divides the school year into four quarters or sections, with each quarter or section offering two face-to-face classes. This allows for more in-person learning with two classes at 150 minutes of instructional time for a total of 300 minutes of in-person learning every day. This means students will take 2 courses at a time, rather than 4 courses. This model will apply to both, face-to-face classes and e-learning classes.
HWDSB will follow Public Health protocols and recommendations as well as Ministry direction to keep students safe in our schools.
The Quadmester model will be offered in Semester 1 only. From Semester 2 all HWDSB secondary schools will be following the regular four-course model unless otherwise directed by the Ministry of Education and Hamilton Public Health Services. 
Secondary 2021-22 Calendar Quadmesters
Previous Updates: 
Sample Timetable 

Secondary Remote Learning (eLearning)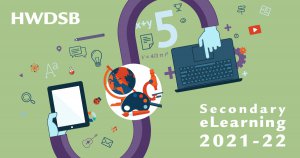 HWDSB is offering secondary remote learning in 2021-22 as an option for parents and student aged 18 years or older concerned about the on-going COVID-19 global pandemic.
Remote learning will continue to be offered through eLearning courses
HWDSB is making this decision based on the current Ministry of Education direction and funding. Funding announcements from the provincial government may require adjustments to the proposed program.
Last spring, parents/guardians and students 18 years and older are asked to declare in the Parent Portal if they will be choosing to learn remotely through eLearning in September. This form closed on June 1. 
To learn more about eLearning in 2021-22, watch a recording of our information session for families that was held on September 7, 2021.
Updated on Monday, January 17, 2022.