Trustees Acclaim Todd White as HWDSB Chair and Elect Alex Johnstone as Vice-Chair
Hamilton-Wentworth District School Board Trustees acclaimed Ward 5 Trustee Todd White as Chair of the Board for a fourth consecutive year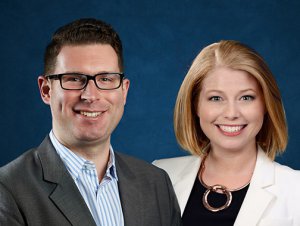 and elected Ward 11 and 12 Trustee Alex Johnstone as Vice-Chair at the Initial Board Meeting on December 4, 2017.
"It's an honour to lead the Board of Trustees in this final year of our term and focus our efforts on a strong finish to complete our strategic four-year mandate," said Chair White. "We began three years ago with a new vision to serve students and families in Hamilton. Our new approach was reflected in the hiring of the new Director of Education and in the creation of our Reimagined vision and priorities."
Trustees set a new strategic mandate after the 2014 election, which has seen:
Success in the renewal, building and maintenance of school facilities
Improvements in graduation rates and student achievement
Communications accelerated to a higher level
Students and staff flourish in a positive culture that promotes well-being
Strengthened relationships with community partners and the City of Hamilton
Todd White, 33, is serving his second term as Trustee for Ward 5 in the city's east end and is the longest consecutively serving HWDSB chair. Further congratulations were received this past week for Todd and wife with the birth their second child.
Trustees also elected Wards 11 and 12 Trustee Alex Johnstone as Board Vice-Chair. Johnstone is in her second term as a Trustee for Ancaster, Glancaster and Winona and served as Vice-Chair from 2014 to 2015.
"I'm excited by the opportunity to help our Board continue our strong work in making a positive difference for students, parents, staff and community partners," said Vice-Chair Johnstone.
– 30 –
Media Contact:
Shawn McKillop, APR
Manager, Communications and Community Engagement
Cell: 905.515.6227 | Email: smckillo@hwdsb.on.ca
Updated on Friday, September 24, 2021.