Tiger-Cats and HWDSB Launch 'Our Cup, Our Community' Educational Program
Hamilton Tiger-Cats November 2, 2021 Media Release
---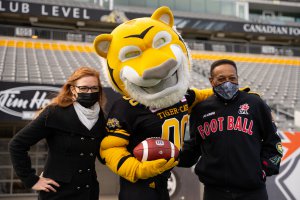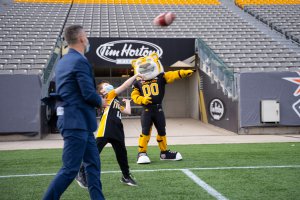 Six-week in-class program to focus on important social issues & an introduction to the amazing game of Canadian football
The Hamilton Tiger-Cats Football Club and Hamilton-Wentworth District School Board have collectively launched a six-week in-class educational program, 'Our Cup, Our Community – Lessons and Stories from the Canadian Football League', that will tackle important social issues and the benefits of physical literacy, while simultaneously introducing students to the unique brand of Canadian football and history of the game.
The program, running from Monday, November 1 to Monday, December 6, is geared towards students in grades 4-to-6 and designed for both teachers and students with no prior knowledge of football. It will culminate just prior to the 108th Grey Cup game on December 12 at Tim Hortons Field in Hamilton.
"Our goal is for these students to learn about Canadian football and its history across the country, all while starting meaningful conversations with them around physical literacy, diversity, equity and inclusion," said Courtney Stephen, Director of Community Partnerships for the Hamilton Tiger-Cats. "This collaborative effort with HWDSB is an exciting part of our community programming for this year's Grey Cup festivities, and by the end of it, the students will be ready to watch the big game right here in Hamilton in December."
The teacher from each participating class will be able to download an educational package that includes a lesson plan with prompts and activity outlines, links to short educational videos and printable worksheets. The learning objectives and program highlights include:
"Welcome to The CFL" – An introduction to each of the nine CFL teams.
"What is a Tiger-Cat anyways?" – Where the name 'Tiger-Cats' comes from.
"Grey Cup" – A history of the Grey Cup.
"Studying Greatness: Chuck Ealey" – A story about courage and self-confidence.
"Studying Greatness: John MacDonald" – A story about embracing and celebrating your identity.
"Off the Field" – Spotlight on some of the prominent females within the CFL, including:

Nicole Demers: Director of Client Retention & Group Sales, Hamilton Tiger-Cats (Current)
Claire Toffelmire: Head Athletic Therapist, Hamilton Tiger-Cats (Current)
Kirsten Grohs: Manager of Football Administration, Atlanta Falcons (Alumni)
Kayla-Marie Tracy: CP24 Host / Reporter (Alumni)
"The 'Our Cup, Our Community' lessons not only give students a wonderful opportunity to learn about a game that is close to our city's hearts, but also inspires them to uphold the values that the Hamilton Tiger-Cats continue to display both on and off the field," said Manny Figueiredo, Director of Education for the Hamilton-Wentworth District School Board. "I am especially appreciative of our HWDSB Learning Services team, who worked tirelessly to prepare these valuable lessons with our equity commitment. Our students will benefit from these classroom discussions that 'tackle' important social issues through the engaging lens of Canadian football."
After six in-class lessons, students will also be shown a prerecorded behind-the-scenes tour of Tim Hortons Field. The video will give them a look into many areas that are generally off-limits to the general public and feature different members of the Ticats team to hear about their role in bringing the Grey Cup to life.
Tickets for the 108th Grey Cup game are available now on Ticketmaster.ca and Ticats.ca/tickets. Fans requiring additional assistance can contact a Tiger-Cats ticket representative at 905-547-2287 or by emailing tickets@ticats.ca.
Updated on Tuesday, November 02, 2021.