Past and Present Students Shine at 25th Reverend John C Holland Awards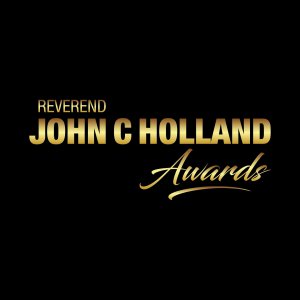 Since 1996, the Reverend John C Holland Awards have celebrated excellence in Hamilton's Black community. The Awards recognize the academic achievements and aspirations of Black youth by offering scholarships and support to assist them in accessing post-secondary education. The Awards also celebrate the rich cultural heritage of our city and recognize the contributions of local Black leaders to Hamilton's social, economic, and cultural life.
On June 19, 2021, the Hamilton community virtually gathered for the 25th edition of the Reverend John C Holland Awards. The ceremony, which is hosted by Hamilton Black History Council, featured artistic performances, a short film, guest appearances, and even a Zoom after party.
We are happy to share that there was no shortage of HWDSB winners! A multitude of current and former students walked away with some virtual hardware.
Award Winners
Shayla Rodney
Dr. Ethilda Johnson Business Scholarship

Sponsored by: May-Marie Duwai Sowa
Shayla Rodney has demonstrated immense academic achievement and community service, logging over 300 hours of community service since high school. Shayla has volunteered to help prepare and serve meals to her community, promoted various health initiatives and acts as a peer leader. She was selected to attend the YWCA peace medal Breakfast and has been awarded for her academic success by the Dean's Honour List at McMaster University and through the Victoria International Church Education Scholarship. Shayla started her business "Pink Papillon Co" selling necklaces and other small gifts, and is eager to continue building her business.
Abygail Montague
Marlene Thomas — Community Advocacy Bursary
Sponsored by: Hamilton Black History Council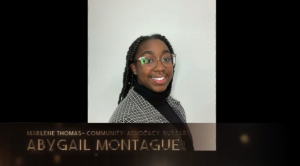 Abygail is a dedicated student, athlete and community member, dedicating much of her time to supporting the Black community. In response to the COVID-19 pandemic, Abygail hosted a contactless food drive with Janus Skills 4 Success and donated goods to St. Matthew's House. She also takes up space as a community advocate through her platform, BLK OWNED HAMONT whose mission is to celebrate, showcase and explore Black-owned businesses in her community. Additionally, she hosted a 5-week, virtual movie club to facilitate discussions on race and oppression with youth. As the Student Council President, an Honour Roll Recipient and a Nominee for the YWCA Women of Distinction Awards, Abygail is highly ambitious and generous in her community service. She hopes to continue to make a difference in her community and educate herself and others on social injustices.
Benjamin Faulknor
Dejehan Hamilton Tune In Bursary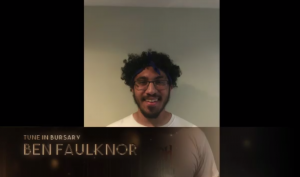 Sponsored by: Tune In Foundation
Benjamin is dedicated to his advancement through the performing arts and his academic achievement. Benjamin has received the War Amps Academic Bursary, Drayton Festival Performing Scholarship, and was the recipient of the Cindy Rees Memorial Award given in recognition of outstanding achievement in technical or performing arts. Throughout the pandemic, Benjamin has taken up song writing and is eager to release his material publicly by Fall 2021. Benjamin contributes to the creative community and continues to be recognized as a performing artist.
Oyin Aderibigbe
Evelyn Myrie: Political Action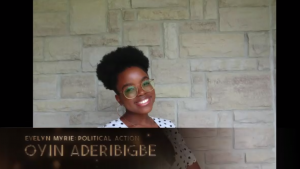 Oyin is the president and Founder of the Hillfield Strathallan College Black Students' Association. In this capacity she enacted anti-racism training and ran weekly meetings. Oyin also mentored students aiming to start the Asian Students' Association and was instrumental in the formation of the Inclusivity, Diversity and equity Alliance. Oyin also invited Ndaba Mandela, grandson of Nelson Mandela, to share lessons from his grandfather in collaboration with Empowerment Squared in an event that hosted 1000+ people. In addition, Oyin was the Academic Director, Committee Chair, Marketing Assistant and Director of Operations at Model City Hall, where she created delegate training, moderated community panels, liaised with political leaders, developed posting and social media schedules and oversaw organizational affairs. Oyin has received many awards and recognitions including the Hamilton Public Library & Hamilton Arts and Letters Magazine Short Work Prize from the Rotary Club of Hamilton, The M.G. DeGroote Cedar Award and was a YWCA Hamilton Women of Distinction Nominee. Oyin is committed to representing the under-represented and vulnerable communities that are often overlooked through community service.
Aisha Ahmad
YWCA: Girls Rock
Sponsored by the YWCA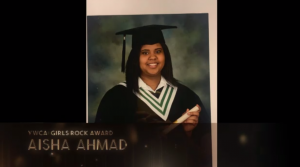 Aisha has been an outstanding role model in the community for young girls, acting as a mentor and leader. Volunteering over 300 hours as a Leader in Training for the Eva Rothwell Centre camps for 2 years allowed her to support staff and engage with youth. Aisha has also volunteered at the 541 Eatery and Exchange and the United Way Halton and Hamilton. Aisha was an Honour Roll recipient, and completed a SHSM in Health and Wellness. In addition, she received the 2020 School to Work Transition Award for exemplary achievement in the OYAP program. Aisha is currently enrolled in the Child and Youth program at Mohawk College and is wafer to continue with her education.
Alyssa Vernon
Audre Lorde — LGBTQ2S and 25th Anniversary Winner
Sponsored by Ruth Cameron, Sponsored by TD Bank Group and Hamilton Black History Council
Alyssa fosters unity, belonging and connection by creating safe spaces for queer, BIPOC individuals. Through developing the QCC Anti-Racist Collage series, F.U.B.U., a virtual events for black students at Queen's University, and Queer Prom, Alyssa has demonstrated a strong commitment to serving the most underrepresented and vulnerable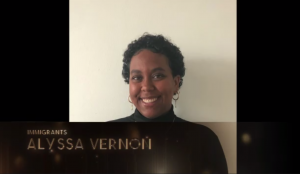 communities. Alyssa was awarded the Robert Sutherland Prize from the Social Issues Commission at Queen's University, was recognized as a Student Leader by the Student Experiences Office for the "Young, Gifted and Black" series and received the Concurrent Education Students' Association Achievement Award for the Class of 2021. Alyssa has shown an immense amount of passion for education, social justice and equity for queer folks. Alyssa is empowered by the resilience of the queer community continues to create safe spaces for those in the community through virtual events and programming.
Winner of the 25th Anniversary Pillar Scholarship of $2,500 — for embodying the four pillars of Hamilton Black History Council: Education, Connection, Empowerment and Celebration.
General Achievement Bursaries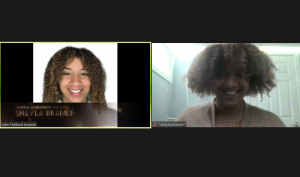 Shayla Bramer: has excelled academically and athletically as an Honour Roll recipient and playing soccer at a high level for the Ancaster Titans. Shayla has volunteered over 100 hours at Joy Bible Camp and completed a SHSM in Health and Wellness. Shayla's interest in Political Action was demonstrated through her Challenge and Change in Society culminating project where they created a survey evaluating the political engagement of peers and elders. Shayla intends to continue spreading knowledge, as well as educate themselves on political matters.
Youth Awards of Recognition
Temitayo Babalola
Resiliency Award: Committed to assisting the community recover from the COVID-19 pandemic through community outreach and service.
Dannick Butera
Athletic Leadership Award: Displaying immense athletic ability, leadership and dominance and contributing to community through volunteering and service.
Malachi Ahmad
Mental Health Advocacy Award: Creating awareness regarding mental health and de-stigmatizing mental illness.
Bailey Bovell
Art Achievement Award: Excellence in visual arts and creativity.
Tas-Jay Smith
Entrepreneurship Award: Empowering Black youth through music and entrepreneurship.
Congratulations to all of the Reverend John C Holland Awards winners and nominees! Your dedication to your communities is even more impressive and important during this challenging year.
Click here to learn more about the Reverend John C Holland Awards. For a full list of winners, you can visit The Hamilton Spectator website.
Updated on Tuesday, June 22, 2021.