Staff plan snow and ice removal on asphalt play areas at schools in winter 2022-23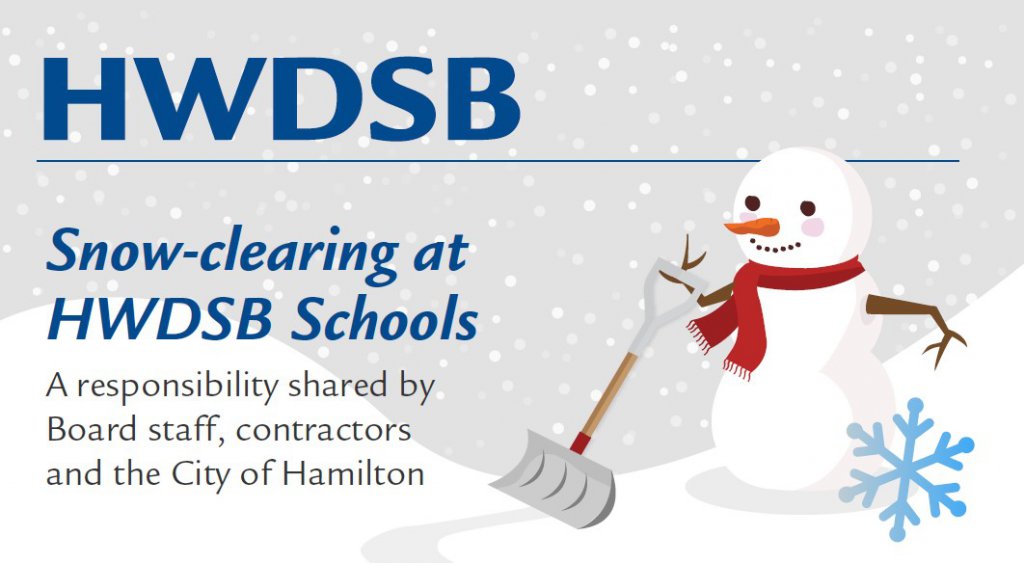 With winter behind us, HWDSB staff are making plans to improve how snow and ice are addressed at elementary schools in winter 2022-23.
Historically, snow removal contractors have not plowed, salted or cleared blacktop areas at schools. Head Caretakers inspect playgrounds and sand and/or salt areas made slippery by changing temperatures. Schools also ask students to take extra caution on slippery areas.
However, families have raised concerns and ask that blacktops be cleared to improve student safety and increase accessibility for students with mobility challenges. Trustees asked staff to explore the feasibility of removing snow on asphalt play spaces at elementary schools.
HWDSB has provided additional snow removal at locations where concerns have been raised, at an additional cost to the annual operating budget, and on a case-by-case basis. The snow removal annual budget allocation is exceeded every year and continues to be challenged across the system.
In March 2022, HWDSB issued a Request for Tender (RFT) for snow removal services as the previous contracts were set to expire this year. The RFT included additional snow clearing on about half of each school's asphalt play areas. Staff feel that this service can be includes in the next term of contracts.
Snow-clearing at HWDSB schools is a responsibility shared by Board staff, contractors and the City of Hamilton.
HWDSB staff clear, salt and/or sand walkways from the city sidewalk to the school, school and portable steps, walkways to portables, ramps to schools and portables, areas outside entrances and fire exit doors, fire exit stairs and ramps.
HWDSB contractors after 5+ cm of snow will plow parking lots and sidewalks when HWDSB Facilities staff deem it necessary, salt and sand the parking lot before school starts, and if required, Head Caretakers may also salt or sand parts of the parking lot.
The City of Hamilton is responsible for clearing snow and ice from sidewalks directly in front of schools, a top priority for the city. Note that it may take up to 24 hours after a snowfall for sidewalks to be cleared. Report a sidewalk fronting a school in need of clearing at 905-546-CITY (2489).
As always, when winter weather returns, staff will monitor snow and ice conditions across the system and update school communities accordingly.
Snow-clearing-Infographic revised 2022
Updated on Tuesday, April 26, 2022.