Ontario Right to Read Inquiry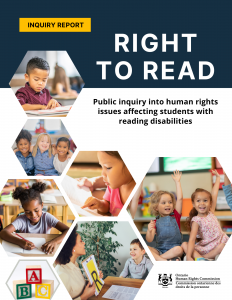 The Ontario Human Rights Commission (OHRC) released its report on its Right to Read public inquiry on February 28, 2022. The OHRC launched the public inquiry into human rights issues facing students with reading disabilities in Ontario's public education system. This in-depth inquiry selected eight school boards, including Hamilton-Wentworth District School Board, to assess whether school boards use scientific evidence-based approaches to meet students' right to read.
The OHRC assessed school boards against five benchmarks that are part of an effective systematic approach to teaching all students to read, including Universal design for learning (UDL), mandatory early screening, reading intervention programs, effective accommodation, and psycho-educational assessments (if required).
The Right to Read inquiry report found that in Ontario, all students, especially students living with reading disabilities such as dyslexia, are not meeting successful outcomes in reading. This concern leaves all students with disabilities at higher risk for significant long-term difficulties. The report delves into foundational reading instruction as early as Kindergarten, early screening, reading interventions, accommodations, professional assessments, and systemic issues.
HWDSB welcomed this opportunity to participate in the inquiry and views the recommendations as a necessary step to full access to literacy improvement.
Response from Dawn Danko, HWDSB Chair of the Board:
"Learning to read is a basic and essential right and a fundamental skill that students must have to succeed in school and in life. HWDSB has had a clear focus on supporting reading skill development, but we can do better. We will work collaboratively with the Ministry of Education to implement critical changes, recommended in the Right to Read inquiry report, that will support literacy, identify and remove barriers to support every student's right to read, and ultimately ensure we provide equitable access to learning that leads to student success in school and beyond."
OHRC Recommendations to the Ministry of Education: 
Right to Read includes recommendations to the Ministry of Education, school boards and faculties of education on how to address systemic issues that affect the right to learn to read, including:
Adopting a new Kindergarten Program and Grades 1 to 8 Language curriculum that features direct and systematic instruction in foundational reading skills, and preparing current and future teachers on evidence-based approaches to teaching students to read
Screening every student, at least twice a year from Kindergarten to Grade 2, to identify students at risk for reading difficulties, using standardized, evidence-based screening tools
Standardizing and providing stable funding for evidence-based reading interventions
Making access to interventions equitable for all students
Providing and supporting timely and effective accommodation, including greater access to evidence-based software and assistive technology
Improving access to professional assessments and ensuring greater consistency and transparency in the assessment process
Setting clear and consistent standards for school boards and mandating better data collection, analysis and reporting
Improving communication with students and parents
Working with experts in the science of reading to implement the OHRC's recommendations.
Next steps: 
HWDSB believes that access to education, including learning to read, is a human right for all students, regardless of disability. Staff continue to offer great practices for students who may struggle with reading.
More information about implementation is expected to come from the Ministry of Education. Schools will continue their reading program and will pause any new purchasing of reading resources or reading programs until more direction is provided.
Updated on Monday, March 07, 2022.