On Lincoln Alexander Day, remembering a trail blazer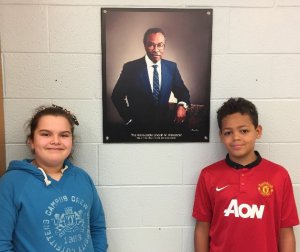 Today is dedicated to the life and legacy of Hamilton's own Lincoln Alexander. In his career, Lincoln Alexander was a strong political voice for labour rights, racial equity and education.
In a life devoted to community, Alexander accomplished many firsts: in 1968 the first black Member of Parliament, the first black cabinet minister and the first black chair of workers compensation.
We remember Lincoln Alexander for more than his career. We remember his compassion and character as someone respected across social groups and political parties.
Although he passed away in 2012, Alexander's name and achievements live, especially in Hamilton due to the Lincoln Alexander Parkway and Lincoln Alexander Elementary School.
Students at Lincoln Alexander elementary are proud to have been given the opportunity to learn about their school's namesake. Nathan, a Grade 6 student, says "He did lots of things for Canada, he got rid of lots of racial harassment."
Celebrating Lincoln Alexander Day today reminds Canadians to continue work to improve Canada, and the world. "He inspires people all across Canada to follow their dreams," said Braelyn, who is in Grade 6. "No matter what the situation is, it'll always get better."
Today is a day to remember Lincoln Alexander, to reflect on how we can support our community and ask ourselves what it means to be Canadian. As Linc himself once said: "I'm proud of being black, but my role in Canada is to serve all the people. I'm a Canadian. Period."
Learn more about the declaration of Lincoln Alexander Day, which is January 21, the day of his birth in 1922.
Updated on Friday, January 19, 2018.