National Indigenous Peoples Day – June 21, 2022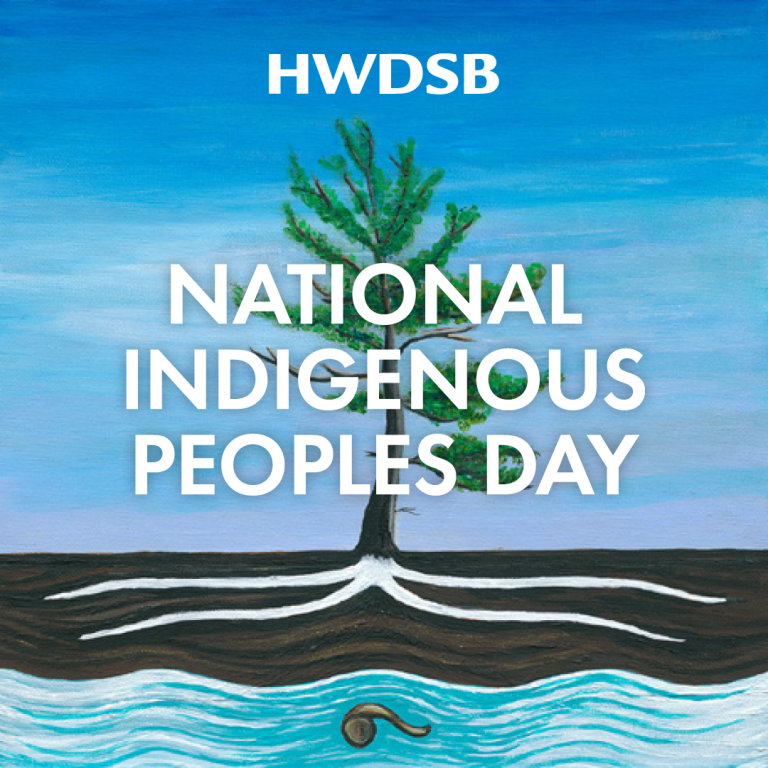 As part of National Indigenous History Month, June 21 is National Indigenous Peoples Day. As we relearn what it means to be a treaty partner, we acknowledge the Indigenous students, families, and staff within the circle of HWDSB schools. We also extend thanks to the community partners that help guide this shared opportunity toward Indigenous educational wellness.
We at HWDSB take this time to announce three steps that we are taking toward: education, commemoration, and wellness.
First, we are excited that this year, plans include planting a white pine tree near the schoolhouse behind the Education Centre, working with Kayanase, from Six Nations of the Grand River. The white pine is an ancient symbol of peace for the Haudenosaunee and will serve as a reminder of these teachings, inherent to these lands. Within these teachings, wellness is highlighted.
We also look forward to working with Mississaugas of the Credit First Nation, installing Moccasin Identifier at the Education Centre. Developed by Carolyn King, former Elected Band Council Chief of the Mississaugas of the Credit First Nation and The Greenbelt Foundation, these identifiers are commemorative and promote public awareness of significant cultural/historic sites and acknowledge both the ancestral presence as well as the current population of First Nations, Indigenous Peoples in their ancestral home territories.
The Board of Trustees recently approved a recommendation from the First Nations, Métis and Inuit Advisory Community Advisory Committee (FNMICAC) to appoint an Indigenous Advisor/Friend to the Board. The Advisor/ Friend will contribute to educational wellness by providing meaningful Indigenous representation that is accurate, authentic and accountable to the (urban)Indigenous community and the HWDSB community at large, in order to honour Indigenous voice, the Truth and Reconciliation Commission Calls to Action (TRC), United Nations Declaration of the Rights of Indigenous People (UNDRIP) and the United Nations Declaration on the Rights of the Child (UNDRC). This is one step toward reconciliation, to help heal the treaty partnerships that will reaffirm the peace, friendship and respect as historically promised in the treaty agreements.
Trustees and staff are working together to add this Indigenous Advisor/Friend position to the Board of Trustees to include Indigenous voice, governance practices and Indigenous Knowledges and ways of knowing, being and doing to the Board table.
We know there are many ways to honour Indigenous Peoples on this significant day. Thank you for working alongside us as we implement these meaningful actions.
Sincerely,
Sue Dunlop (she/her)
Interim Director of Education
Updated on Monday, June 20, 2022.