Labour Update for families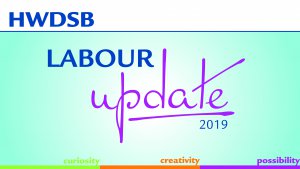 HWDSB received official notice that on Monday, October 7, 2019, the Canadian Union of Public Employees (CUPE), which represents about 500 HWDSB caretakers and maintenance workers, may take strike action in the form of a full withdrawal of service.
The strike is a province-wide job action taken as a collective agreement has not been reached between the Government of Ontario and CUPE. HWDSB is planning to implement contingency measures to keep schools safe, clean and open.
Please see the following letter regarding what families can expect starting on Monday, October 7, 2019:
Parent Letter – Labour Update Oct 3 2019 final
Updated on Thursday, October 03, 2019.