Kindergarten Registration Now Open at HWDSB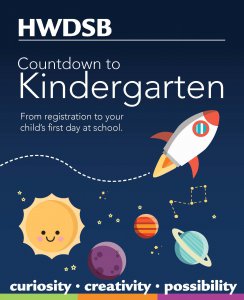 Registration for students starting kindergarten in September 2018 is underway at elementary schools across Hamilton-Wentworth District School Board (HWDSB).
Kindergarten is a two-year, full-day program that helps children get the best possible start in school. Children are challenged and encouraged to do their very best by a caring team of educators, including a teacher and an early childhood educator.
"Kindergarten represents a milestone and a time of change for every family," said Manny Figueiredo, Director of Education. "We want this new beginning to be a wonderful experience for children, families and educators alike."
Registration forms are available at elementary schools. Families can also print the registration form at www.hwdsb.on.ca/kindergarten/ and take the completed form to their child's school.
New this year, HWDSB has created a Countdown to Kindergarten postcard so that families considering kindergarten can better understand the process. In addition, input from families has reshaped the booklet families will receive at kindergarten registration.
Only parents or legal guardians can register their children for school. The following documents are required: Proof of age (child's birth certificate or passport); Proof of address (identification that shows parent/guardian's current home address); Proof of immunization; Verification of date of arrival/immigration documents (if the child was not born in Canada); and a completed Kindergarten Registration Form, which this year includes an optional early years survey.
Parents can find their elementary school at www.hwdsb.on.ca/find. Families are encouraged to call their nearest elementary school for details and to arrange a visit the school to register. Schools will hold Kindergarten Orientation events in May.
– 30 –
Media Contact:
Shawn McKillop, APR
Manager, Communications and Community Engagement
Cell: 905.515.6227 | Email: smckillo@hwdsb.on.ca
Updated on Friday, September 24, 2021.