International Holocaust Remembrance Day – January 27, 2023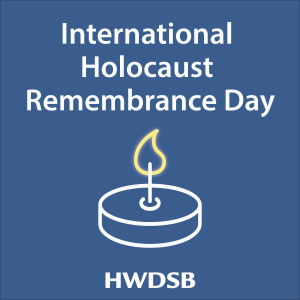 International Holocaust Remembrance Day is recognized annually on January 27.
The date marks the anniversary of the liberation of the Nazi Concentration and Extermination Camp of Auschwitz-Birkenau in 1945. For many, this heroic feat signaled the end of a genocide that will never be forgotten.
On this day of Holocaust commemoration, we honour the countless victims from marginalized groups, including, but not limited to, the more than six million Jewish lives lost.
International Holocaust Remembrance Day reminds us that everyone has a right to feel safe, supported, and accepted in their communities. We are all responsible for the worthy pursuit of removing barriers for all oppressed communities in schools, workplaces, and beyond.
Education is one of the greatest tools when it comes to combatting hate and bigotry, and I am proud that HWDSB schools and classrooms are places where this important learning is already taking place.
At HWDSB, and in schools across the province, students will soon be taught the crucial lessons of the Holocaust at a younger age. Ontario's Ministry of Education is implementing its first mandatory learning requirement in elementary schools on Holocaust education.
Currently, learning about the Holocaust and other acts of genocide are included in the Grade 10 Canadian History Since World War I course. The addition to the Grade 6 provincial curriculum will help younger students gain a deeper understanding of the Holocaust during a time when antisemitism is on the rise.
Thank you for remembering the important lessons learned from the Holocaust and actively combating antisemitism. It is critical that we continue to address all forms of hate and discrimination to help ensure an event of this nature is never repeated.
Sincerely,
Paul Denomme
Superintendent, Equity and Safe Schools
Resources:
Updated on Friday, January 27, 2023.