Indigenous students, help build our community!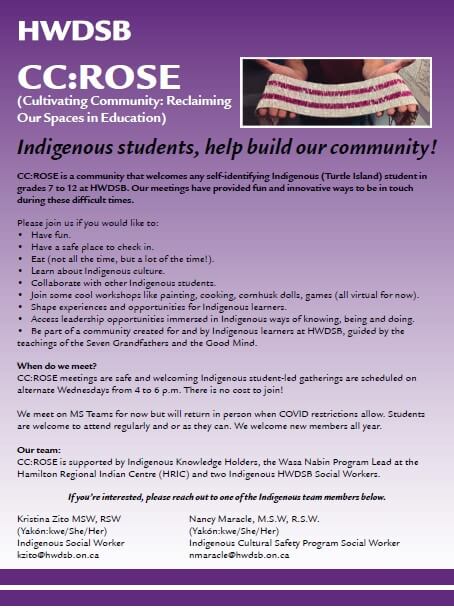 CC:ROSE (Cultivating Community: Reclaiming Our Spaces in Education) is a community that welcomes any self-identifying Indigenous (Turtle Island) student in grades 7 to 12 at HWDSB. Our meetings have provided fun and innovative ways to be in touch during these difficult times.
See our flyer.
Please join us if you would like to:
Have fun.
Have a safe place to check in.
Eat (not all the time, but a lot of the time!).
Learn about Indigenous culture.
Collaborate with other Indigenous students.
Join some cool workshops like painting, cooking, cornhusk dolls, games (all virtual for now).
Shape experiences and opportunities for Indigenous learners.
Access leadership opportunities immersed in Indigenous ways of knowing, being and doing.
Be part of a community created for and by Indigenous learners at HWDSB, guided by the teachings of the Seven Grandfathers and the Good Mind.
When do we meet?
CC:ROSE meetings are safe and welcoming Indigenous student-led gatherings are scheduled on alternate Wednesdays from 4 to 6 p.m. There is no cost to join!
We meet on MS Teams for now but will return in person when COVID restrictions allow. Students are welcome to attend regularly and or as they can. We welcome new members all year.
Our team:
CC:ROSE is supported by Indigenous Knowledge Holders, the Wasa Nabin Program Lead at the Hamilton Regional Indian Centre (HRIC) and two Indigenous HWDSB Social Workers.
If you're interested, please reach out to one of the Indigenous team members below.
Kristina Zito MSW, RSW
(Yakón:kwe/She/Her)
Indigenous Social Worker
kzito@hwdsb.on.ca
Nancy Maracle, M.S.W, R.S.W.
(Yakón:kwe/She/Her)
Indigenous Cultural Safety Program Social Worker
nmaracle@hwdsb.on.ca
Updated on Thursday, January 27, 2022.