HWDSB's Pandemic Recovery Plan to Address Disproportionate Impact on Marginalized Communities
HAMILTON – August 30, 2022: Hamilton-Wentworth District School Board has outlined five commitments created to support pandemic recovery in school communities ahead of the 2022-2023 school year.
These commitments, first presented in the June 13, 2022, Board Meeting, are centered on an equitable post-pandemic recovery and recognize the importance of safety, well-being and inclusion in both school and work environments at HWDSB.
"I'm encouraged by the direction this Board has taken in recognizing the impact of the pandemic and the unique needs of students and staff throughout HWDSB," said Sheryl Robinson Petrazzini, HWDSB's new Director of Education. "These commitments were determined based on direct feedback from our schools and school leaders and will serve as a base to inform important decision making this coming school year."
HWDSB's Commitments include:
safe and inclusive work and learning environments for all,
supportive learning environments that demonstrate excellent instruction and the interrelationship between achievement, well-being, and equity,
recovery and co-construction of new practices and processes that reflect the post-pandemic community and learning environments
support for opportunities to respond to the evolving needs of students,
and continued engagement with staff and the acknowledgement of the contributions of all employees in supporting pandemic recovery.
These commitments will include a focus on the well-being of Indigenous communities, as HWDSB continues to support healing and reconciliation, with guidance from the Indigenous Education Team and partners.
"The past two and a half years have been a challenge for both student and staff alike," said Dawn Danko, Chair of the Board of Trustees. "Through this plan, HWDSB reinforces its commitment to an equitable recovery post-pandemic. We look forward to welcoming staff and students back next week in the most positive, safe, and supportive way possible."
HWDSB's commitments can be read in full: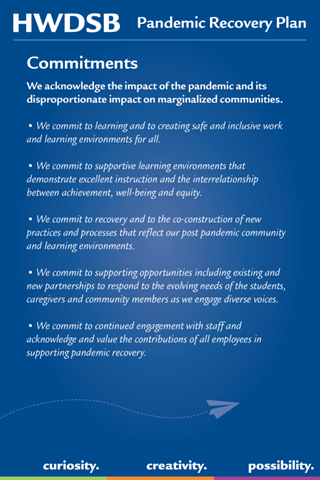 -30-
Media Contact:
Rob Faulkner, APR
Communications Officer
rfaulkne@hwdsb.on.ca | 905-906-2007
Updated on Tuesday, August 30, 2022.