HWDSB teacher's book Safety Stars chronicles pro hockey's safety pioneers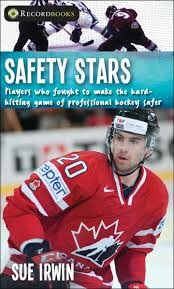 HWDSB itinerant teacher Sue Irwin's new book shines a light on hockey safety, highlighting past and present players, and what they have done to enhance the game.
Safety Stars: Players who fought to make the hard-hitting game of professional hockey safer delves deep into real life experiences of the pros and the danger of the game.
"Safety Stars will take you ice-level, where you'll meet legends of the past and today's innovative players who regularly tackle their challenges head on," says Irwin. "You'll read about slapshots and stitches, danger and defibrillators, concussions and courage."
The inspiration for the book came from Jacques Plante, a retired Toronto Maple Leaf's hockey goalie. In 1972, Plante received approximately 200 fan letters every day, and wrote back to every one of them.
One of the letter-writers was a 12-year-old hockey fan named Johnathan, now Irwin's husband.
"When I heard that Jacques had taken the time to respond personally, I set out to learn more about the man," explains Irwin. "His story was fascinating, and I wanted to share what I discovered with young readers."
Safety Stars presents health and safety information in a way that appeals to young readers' sense of danger and excitement. The book is written in a narrative style, perfect for reluctant readers and ESL students.
In 2015, the book won the Elementary Teachers' Federation of Ontario Curriculum Development Award because of its emphasis on concussions. The Canadian Children's Book Centre also named Safety Stars a 2015 "Best Books for Kids and Teens" selection.
Currently, Safety Stars has been nominated for Forest of Reading's Silver Birch Nonfiction Award.
Every year, over 150 library professionals read hundreds of books and choose the nominations. Then, over 250,000 children read five books at their reading level, and vote for their favourite.
Irwin is thrilled about the book's impact, and the opportunity to introduce Safety Stars to schools and libraries across southern Ontario.
"I'm excited to discuss Canadian hockey heroes, the serious issue of concussions, and the positive difference that anyone can make in the lives of others."
Sue invites teachers and their classes to correspond with her by email at sue.irwin88@gmail.com or follow her on Twitter @sueirwin88.
Updated on Monday, April 03, 2017.