HWDSB in the News – May 2022
Please see some recent media stories, featuring HWDSB students, staff, schools, and more.
---
Hamilton public schools to offer learning recovery tutoring
Three-phase pandemic action plan to begin with after-school programs
By Richard Leitner – May 2, 2022
All Hamilton public schools will be offering tutoring supports to any student who has fallen behind on their studies during the COVID-19 pandemic.
Associate director Sue Dunlop said a $4.4-million learning recovery action plan funded by the province will be rolled out in three phases, starting with after-school tutoring that will begin as soon as possible and run until the end of the school year.
For elementary grades, occasional teacher-led groups will have a maximum of 15 students and get tutoring for three to four hours per week.
The sessions will focus on math, literacy and "foundational skills," including for English-language learners, she told trustees in a presentation at their April 25 board meeting.
At high schools, students will be offered one-hour sessions outside the instructional day three times per week, either in person or online, to help them rescue credits or complete ones they are already studying. Groups will also have a maximum of 15 students.
---
Prom is back in Hamilton, and so are 'promposals'
Students say promposals are now the 'standard' way to ask a date to prom

By Kate McCullough – May 10, 2022
There was nothing unusual about cleaning the foyer of her family's newly purchased home on a snow day in February. At least not until she received a surprise visit from a classmate, who braved the weather to pop the question.
"My mom was like, 'grab this box and move it over here.' … I thought nothing of it," said Grade 12 student Kaitlynn Anderson, 17. "I walked over and he was standing there, so I was super shocked."
Her friend, Drew Edgar, held a sign with meticulously traced, perfectly spaced bubble letters: "Prom 2022 is getting closer so I'm going to push my luck and say I'd be on a high if you'd be the one to go to prom with me!"
"She's a big Chainsmokers fan, so I gathered a bunch of song names," he said of the American electronic band. "I just gathered four that really worked well and everything started to flow nicely."
The so-called "promposal" worked. Anderson agreed to be his date for the Ancaster High School prom later this month.
Read more in The Hamilton Spectator.
---
'It means the world': pop-up provides formal wear students can afford
Prom Project is an organization that collects donations so students can have formal wear for school
By Keena Alwahaidi – May 11, 2022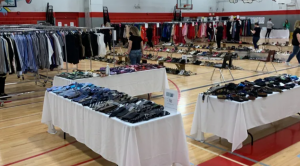 The price of formal wear can be daunting — especially for students who are off to college, university, or have a full-time job.
That's one of the main reasons why Prom Project Hamilton exists.
"To be able to have Prom Project to dress up and feel good without having to spend hundreds of dollars, I think is great," said Amy Leaming Cote, who is a co-organizer of Prom Project Hamilton and is the Executive Director of Hamilton Foundation for Student Success.
Prom Project, which was started eight years ago by a handful of educators for the Hamilton Wentworth District School Board (HWDSB), is a volunteer project that collects donations for formal wear that students can wear for prom or other school events.
Students who need a formal outfit for those events can show up and choose an outfit free of charge. Accessories, shoes and other products are also available to add on.
This year's event took place this past Saturday, where 125 volunteers made Prom Project possible.
Read more on the CBC Hamilton website.
---
Eighth annual Prom Project helps hundreds of students in Hamilton
By Manesa Dhanabalan – May 7, 2022
It was a busy day for hundreds of students in Hamilton. It was the eighth annual Prom Project, a chance for students to get their full prom outfit for free.
The organizers say it's not just to save families money but to also help the environment.
Watch the full segment on the CHCH website.
---
Prom has returned to Hamilton, with 'unprecedented' demand
The coming-of-age tradition back after a two-year hiatus.
By Kate McCullough – May 19, 2022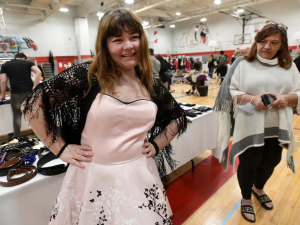 Teenagers mill about the high school gym, rifling through racks of tulle, sequins and bright floral satin.
It's a Saturday in May, and students are chatting excitedly as they try on sparkly cocktail dresses, floor-length gowns, strappy heels and sharp suit jackets. Some stride in arm-in-arm with a friend; others have brought sisters, brothers, mothers and fathers for a critical eye.
Prom, an annual coming-of-age tradition, is back after a two-year hiatus. With it, a veil of gloom lifted.
"I feel beautiful," said Darrah Seager, 17, twirling slightly to show off her dress. "I wanted 'princess,' but I also wanted it to fit the theme, and it's both."
Pale pink satin with a black, lace-up bodice, the real feature of the graduating student's chosen prom dress is the woodland scene at the bottom of the knee-length circle skirt. Delicate leafy limbs climb from the lace-trimmed hem, butterflies fluttering above them.
The theme of Bernie Custis Secondary School's June 2 prom is enchanted forest meets Met gala, complete with a red carpet, she said.
The Grade 12 student knew it was "the one" the minute she saw it.
Read the full story in The Hamilton Spectator.
---
Hamilton-area Muslim students call 1st ever Eid al-Fitr celebration at school needed recognition
Waterdown and Orchard Park high school students celebrated Eid al-Fitr on Friday and now plan to do so yearly
By Bobby Hristova – May 21, 2022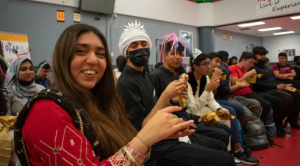 Hana Bhat said she's been counting down the days for the past two months.
The Grade 9 Waterdown District High School student was thinking about what to wear and who she might meet at the school's first ever Eid al-Fitr celebration.
"I've never done anything big like this with my school friends," she told CBC Hamilton on Friday.
She was among over 60 students from Waterdown High and Orchard Park Secondary School who celebrated together.
Eid al-Fitr was officially earlier this month, on May 2. It marks the end of the month of Ramadan, which sees Muslims fast daily from sunrise to sunset. Eid al-Fitr is usually observed with prayers, sharing of food and communal gatherings.
Farhanna Khan, who teaches food and nutrition at Orchard Park and introduction to anthropology, psychology, and sociology at Waterdown, coordinated the event. She formed a committee and got students involved.
"I want to be able to give them something I didn't have in the school," Khan said.
Read more on the CBC Hamilton website.
Updated on Friday, May 27, 2022.