HWDSB in the News – April 2022
Please see some recent media stories, featuring HWDSB students, staff, schools, and more.
---
Dundas student Neha Gupta earns Ontario Junior Citizen Award
Work in equity and science, strength of character inspires others
By Craig Campbell – Thu., April 14, 2022
Attending her first Hamilton-Wentworth District School Board Human Rights and Equity Advisory Committee meeting in 2018 was a big eye-opener for Dundas' Neha Gupta.
"Being surrounded by a diverse, like-minded group of Hamiltonians who all cared so deeply about equity allowed for a type of learning I'd never experienced in the classroom," the 17-year-old Westdale Secondary School student said. "I actually decided to run for co-chair of the committee just minutes before nominations began. I ran on the promise of elevating student voices to ensure they were at the forefront of the committee's actions."
Gupta was the first student to serve as the committee's co-chair, and was re-elected three times. Under her leadership, the committee heard input from community members, during the height of COVID-19, and worked together despite the challenges to terminate the school board's Police Liaison Program in June 2020.
Her hard work for equity and human rights, success in local, national and international science fairs and her ability to take these achievements beyond the classroom into the wider community are among the reasons Gupta is one of 12 provincewide recipients of a 2021 Junior Citizen Award from the Ontario Community Newspaper Association, of which the Dundas Star News is a member.
---
International robotics competition a 'once-in-a-lifetime opportunity' for many Hamilton students
High school robotics teams from Orchard Park and Bishop Ryan in Hamilton finished in the semifinals of the FIRST Robotics World Championship in Houston, Texas, on Saturday.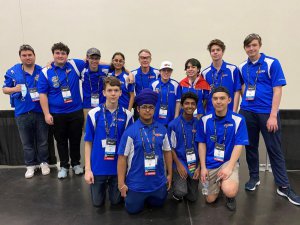 By Kate McCullough – Mon., April 25, 2022
With a 120-pound robot in tow, a team of Hamilton students returned home Monday after competing in the robotics world championships in Houston, Texas.
Team 2056 didn't win the annual FIRST Robotics World Championship, which was cancelled for two years amid the pandemic. But after two competition-less years and a late start to the season, the Orchard Park Secondary School robotics team considers a spot in the playoffs a huge success.
"The accomplishments, considering COVID, were amazing," coach Stan Hunter told The Spectator.
The Hamilton team competed with more than 450 schools from around the world in the three-day event, and were selected for the division playoffs on Saturday.
The Stoney Creek team lost in the semifinals.
"Worlds was one of the best experiences of my life," robot driver Caleb Spears, 17, said in an email. "We gave every match everything that we could."
Read more in The Hamilton Spectator.
---
New HWDSB student newsletter aims to 'rebuild' community lost during pandemic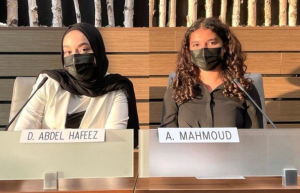 Hamilton-Wentworth District School Board student leaders launched on Monday the Senate Spectator, a newsletter for high-schoolers.
By Kate McCullough – Wed., April 27, 2022
There's a new Spectator in town.
Hamilton-Wentworth District School Board (HWDSB) student leaders launched the first edition of the Senate Spectator, a student-run newsletter, on Monday.
In a FaceTime call Tuesday afternoon, HWDSB student trustees said the publication's aim is to both inform and reconnect students in a time of disconnection.
"We've kind of lost that sense of community over the pandemic, so it's a really cool way to rebuild it and showcase some of the amazing things that students are doing," said student trustee Aisha Mahmoud, 16.
The newsletter — written by students, for students — highlights events and initiatives for Black History Month, fundraisers to support efforts in Ukraine and sports achievements. Students penned articles about Ramadan, which began on April 2, and women trailblazers for Women's History Month in March.
Read more in The Hamilton Spectator.
---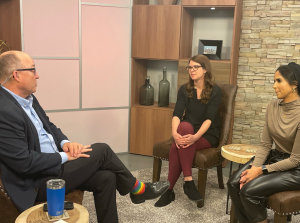 Bellmore Educator Appears on Cable 14's 'Vital Signs'
Vital Signs, hosted by Terry Cooke, is produced by Hamilton Community Foundation to explore and engage citizens in multiple aspects of the city's quality of life.
For the April 25, 2022 episode, Bellmore Elementary teacher-librarian Jennifer Angle and Khoula Bengezi joined Terry to discuss the education of critical histories to younger students.
Updated on Friday, April 29, 2022.