HWDSB Grad Rate Remains Above 80 Per Cent for the Sixth Consecutive Year
Hamilton, Ontario – November 24, 2021: New Ministry of Education data shows that HWDSB's five-year high school graduation rate increased to 83 per cent for students who started Grade 9 in 2015-16 and remained with HWDSB until graduation. The figure points to an increase from the previous year and marks a sixth consecutive cohort with a graduation rate at or above 80 per cent.
An overall five-year grad rate of 81.6 per cent HWDSB students was reported by the Ministry of Education.
"Graduation is our ultimate goal for our secondary students," said Manny Figueiredo, Director of Education. "We continue to see our graduation rates rise over the past six years through the effective practice of our educators and school leaders, our focus on professional network learning, and our intentional monitoring of student progress.  In addition, we have had a clear focus on accessing critical supports from our community partners."
HWDSB remains committed to improving student learning and achievement through effective instructional strategies. Staff remain focused on supporting students as they progress towards graduation and reading proficiency is a key part of that journey, especially during a year of unprecedented change in a global pandemic.
"While we are pleased to see the graduation rates rise to 81.6 and 83 per cent, we must continue to consider how we can support students who are currently and  historically underserved," said Figueiredo. "We will be reviewing the data collected from our first Student Census later this year, which will be critical for our Board to continue to focus on the Indigenous Cultural Safety, Special Education, and  Equity Action Plans as the foundations to continue to improve academic outcomes."
Learn more in our HWDSB Graduate Rate Infographic.
-30-
Media Contact
Shawn McKillop, APR
Manager, Communications and Community Engagement
Cell: 905.515.6227 | Email: smckillo@hwdsb.on.ca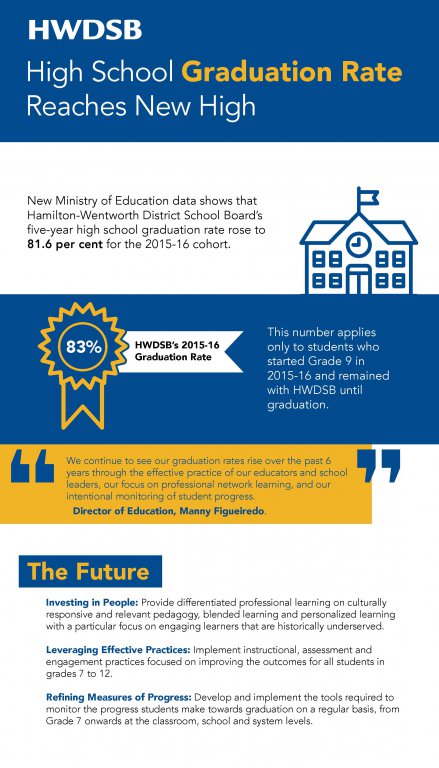 Grad Rate Infographic – November 2021
Updated on Thursday, November 25, 2021.