HWDSB Continues Commitment to Equity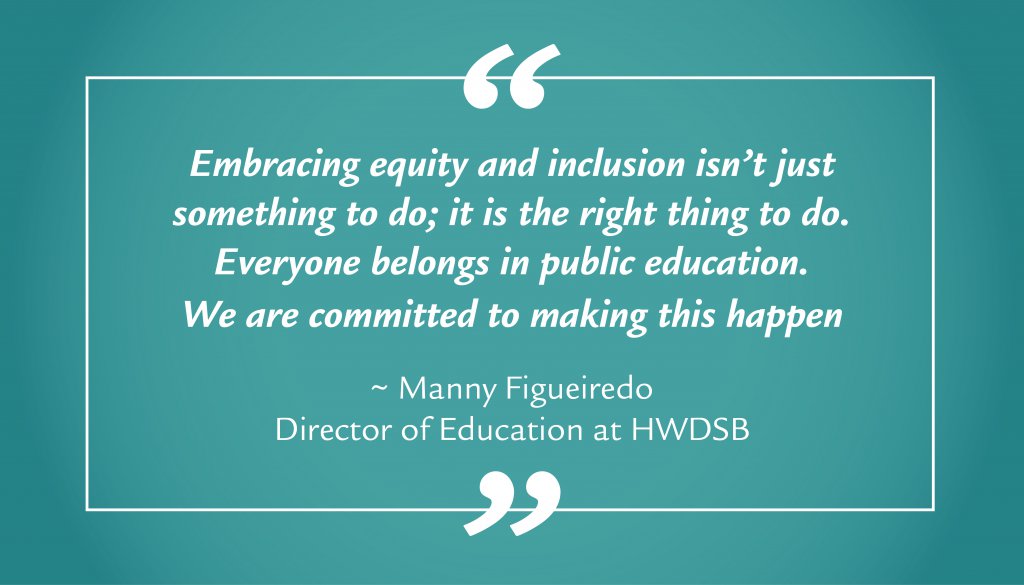 Hamilton, Ontario – August 28, 2018: Hamilton-Wentworth District School Board (HWDSB) is taking bold steps toward equity and inclusion in its schools and departments this school year, Director Manny Figueiredo told more than 300 Board leaders this morning (Aug. 28, 2018).
The Director's System Leaders Breakfast is an annual meeting of principals, managers and other system leaders to set direction and outline plans for the upcoming school year. This year's theme was Sharing Stories: Our Commitment to Equity and the keynote speaker was human rights lawyer Njeri Damali Sojourner-Campbell.
"Embracing equity and inclusion isn't just something to do; it is the right thing to do," Director Figueiredo said. "Everyone belongs in public education. We are committed to making this happen."
At HWDSB, recent and upcoming progress on equity and inclusion includes:
Hiring Yohana Otite in the role of Human Rights and Equity Officer at HWDSB.
Learning and responding to the Truth and Reconciliation Commission's recommendations with support from the HWDSB Indigenous Team including Tehahenteh, Knowledge Keeper and community partners.
Moving from broad equity learning with our system leaders to more specific anti-racism and anti-oppression training.
Getting to know more about our staff through the upcoming Staff Census, so students and staff are well-supported and represented.
Supporting students through the help-seeking and help-offering initiative, We Help, and by ensuring students can identify a caring adult who supports their learning and well-being.
"Our Annual Plan focuses our work so that we can deliver on all of our priorities," continued Director Figueiredo. "We are proud to embrace equity and inclusion for all."
– 30 –
Media Contact:
Shawn McKillop, APR
Manager, Communications and Community Engagement
T: 905.527.5092 x2941
C: 905.515.6227
Updated on Friday, September 24, 2021.