Hillcrest, Parkdale receive generous grant from Indigo Love of Reading Foundation
Hillcrest Elementary School will be revamping its library collection thanks to a three-year, $85,000 grant from the Indigo Love of Reading Foundation.
For the 13 years, the Indigo Love of Reading Foundation has been providing more than $25 million in funding to help 3,000 high-needs elementary schools across Canada.
Hillcrest is one of 30 grateful recipients of the 2017 Literacy Fund grant, which is part of a $1.5 million commitment by the Foundation to improve literacy and increase overall access to books.
"We're honoured to be selected as one of the 30 recipients for this year's Love of Reading grant, and this support could not have come at a better time," Hillcrest librarian, Sarah Van Sligtenhorst, said. "Our students will benefit in so many ways from this major library transformation."
The lengthy application process required schools to develop and submit a 'literacy improvement plan' explaining how the school would use funding from the grant.
Hillcrest's literacy improvement plan proposed the improvement of classroom and school libraries to increase overall access to books, and the improvement of literature resources in Student Success classrooms.
Hillcrest, currently home to 550 students, has a library budget of $2,000, which allows for less than one book per student. In the proposal's success, the grant will increase the school's book collection with over 5,000 new books.
"The Literacy Fund Grant will work to boost student engagement and their level of reading, and will put high-interest resources in the hands of students," said Hillcrest Principal John Manzin.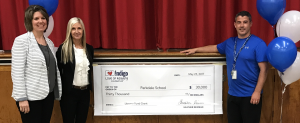 Parkdale Elementary School is another HWDSB school that received a substantial grant of $30,000 from the Indigo Love of Reading Foundation to improve its resources.
To learn more about the foundation and its literacy grant, visit www.loveofreading.org
Updated on Wednesday, June 14, 2017.