Hamilton Foundation for Student Success to Display HWDSB Talent at Virtual 'Showcase of heARTS'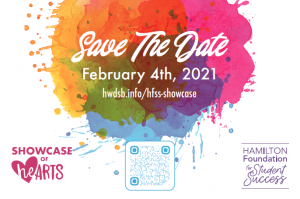 This fall, Hamilton-Wentworth District School Board students have returned to school facing incredible challenges. COVID-19 has meant that many students are struggling in many ways. Some have experienced job loss in their family and limited personal job opportunities, while others are grappling mentally and socially. All of this has led to a dramatic increase in the need for support.
On Thursday, February 4, 2021, Hamilton Foundation for Student Success is hosting "Showcase of heARTS". The online event will raise funds for HWDSB students while celebrating their artistic achievements.
Beginning at 6:30 p.m., guests will enjoy both live and pre-recorded material in an upbeat, fun, and reimagined experience with real time engagements and interactions. Our students' hard work and perseverance over the last year will be recognized through a showcase of their many abilities. With concerts, recitals, and events put on hold, this is their chance to shine!
A variety of ticket options allows attendees to create their own Showcase of heARTS experience. Enhance your viewing party by enjoying a dinner and personalized wood gift box full of locally-sourced products and creative pieces designed by students. There is also the opportunity to participate in a few fundraising activities, including a silent auction featuring a wide variety of items.
The heARTS Wide Open Gala has been a critical means to raise funds for Student Support Grants. Last year was a tremendous success, raising over $48,000! These grants support a student's basic personal needs, contribute to helping a student come to or stay in school, or assist a student in need who wants to participate in a school activity.
We hope that you can join the effort to support HWDSB students by virtually attending on February 4. Showcase of heARTS tickets and additional information can be found by clicking the link at the top of the page. Even if you are unable to join us, please consider making a donation to Hamilton Foundation for Student Success. Any form of generosity is always appreciated.
Updated on Monday, January 11, 2021.