Glendale Program of the Arts students' talents flourish at Stratford Festival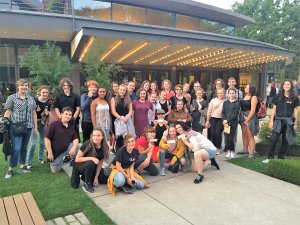 Glendale's Audition-Based Program of the Arts (ABPA) encouraged its students to grow their creative passions by providing an affordable trip to the Stratford Festival this month.
On September 12, 35 program students headed to Stratford for two full days of intensive training where they had the opportunity to connect with and learn from admired directors, technicians and performers.
Students met with individuals such as the assistant director of Tartuffe, Sarah Fitz, where they discussed artistry, craft and opportunities within the arts. Select students were also taken on a private backstage tour with esteemed technician Alec Cooper.
Students were also able to put their performance skills to work with actors from Romeo and Juliet, and tied up their dancing shoes to practice choreography with the dancers from Guys and Dolls.
This trip was made possible by a $1,000 grant given to ABPA to cover transportation costs to the festival, offering the trip at a remarkable $160.
"HWDSB Audition-Based Program of the Arts is grateful to the Stratford Festival for hosting our audition-based students," says Luke Bramer, Glendale ABPA teacher. "We are also beyond thankful to have been provided a bus subsidy in order to make the experience affordable for all students to attend."
ABPA is continuing to cultivate students' talents by offering $5,000 in scholarships to 10 students through their partnership with Theatre Aquarius. The scholarships will allow students to attend musical theatre training outside of school to further enhance their skills as they progress in the program.
For more information, visit HWDSB Audition-Based Program of the Arts (ABPA).
Updated on Wednesday, September 20, 2017.