Focus on Youth Resume and Cover Letter Workshop
Every summer since 2008, HWDSB has partnered with not-for-profit groups through the Focus on Youth program to support them in delivering summer programs that keep young people safe and active.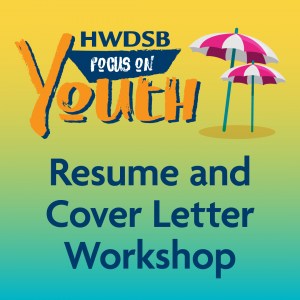 Focus on Youth applications open Monday, May 23, 2022. Visit our webpage to learn more.
Are you having trouble getting your resume and cover letter ready for FOY 2022 applications? No need to worry, as we have you covered! Our FOY team has partnered with the YMCA Employment & Training Services team to help HWDSB students get on the right track for any upcoming resume and cover letter submissions. The training session will be a one-hour virtual event that will take place on May 10, 2022, at 5 p.m.
How to get access to our virtual Resume and Cover Letter Workshop? Please see the sign-up link below and provide all required information. Even if you do not end up applying to Focus on Youth, you are still able to attend this learning session. All you need is your HWDSB email!
Link to register: hwdsb.info/FOYworkshop
Registration for this workshop closes May 9 at 12 p.m. Invitations will be sent to those who register on that date. For more information or further inquiries, please contact focusonyouth@hwdsb.on.ca.
Updated on Wednesday, April 27, 2022.