Emotion Coaching for Parents and Caregivers – Fall 2021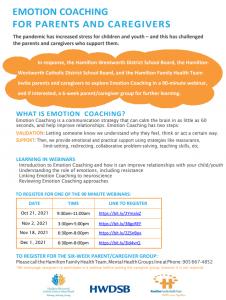 PDF Flyer: Emotion Coaching for Parents and Caregivers – Fall 2021
The pandemic has increased stress for children and youth – and this has challenged the caregivers who support them.
In response, Hamilton-Wentworth District School Board (HWDSB), Hamilton-Wentworth Catholic District School Board (HWCDSB) and the Hamilton Family Health Team (HFHT) invite caregivers to explore Emotion Coaching in a series of 90-minute webinars and/or a six-week parent/caregiver group.
WHAT IS EMOTION COACHING?
Emotion Coaching is a communication strategy that can calm the brain in as little as 60 seconds, and help improve relationships. Emotion Coaching has two steps:
VALIDATION: Letting someone know we want to understand why they feel, think or act a certain way.
SUPPORT: Then, we provide emotional and practical support using strategies like reassurance, limit-setting, redirecting, collaborative problem-solving, teaching skills, etc.
LEARNING IN WEBINARS
Introduction to Emotion Coaching and how it can improve relationships with your child/youth
Understanding the role of emotions, including resistance
Linking Emotion Coaching to neuroscience
Reviewing Emotion Coaching approaches
CLICK THE FOLLOWING LINKS TO REGISTER FOR ONE OF THE 90 MINUTE WEBINAR
TO REGISTER FOR THE SIX-WEEK CAREGIVER GROUP:
Please call the Hamilton Family Health Team, Mental Health Groups line at Phone: 905-667-4852
*We encourage caregivers to participate in a webinar before joining the caregiver group, however it is not required.
Updated on Wednesday, October 06, 2021.