Elementary and Secondary Commencement (Graduation) Update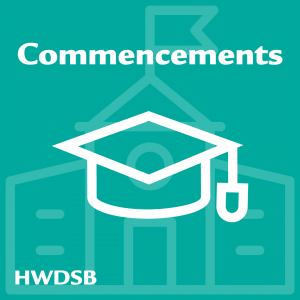 As COVID-19 restrictions are lifted across the province, we have received direction that in-person commencement will be permitted. HWDSB is pleased to be able to plan for in-person commencements that will be inclusive and celebratory events for all. Schools are cautiously preparing for events later this year while taking local public health trends into consideration.
What is a Commencement?
Commencements offer school communities the opportunity to celebrate each student's learning journey, achievement, and their transition to the next phase of their education and career. All events and celebrations will be planned with the following guiding principles informed by HWDSB's Equity Action Plan. Here is what you can expect:
Events will be planned to ensure inclusivity of all students in the commencing cohort and will allow for equity of access and opportunity for all students.
Event dates will be planned around major Faith Days, Observances and/or Holy days.
Students, parents and staff voices will be included to ensure commencements are representative of the school community.
For Secondary Students:
Secondary commencements will take place later in June. Schools will share commencement dates with families once event details are confirmed.
All students in grade 12 will be included and have their celebrations achieved. This includes students who are still completing requirements for their Ontario Secondary School Diploma.
For Elementary Students:
Grade 8 commencements will take place between June 20 and 23. Schools will share commencement dates with families once event details are confirmed.
All students in the commencing cohort, including in-person classes, remote classes, students on temporary excusal, etc., will be included in commencement celebrations, events and awards.
Grade 8 students in full-time remote learning can participate in commencement event of their in-catchment school upon request. Please contact your student's in-catchment school principal.
For All Students:
Commencement events will take place after regular school hours.
Secondary and their elementary feeder schools will coordinate their commencement dates to avoid overlap that might limit parent attendance at each of their student's commencements.
An HWDSB Land Acknowledgement will be shared at all commencement events.
HWDSB is pleased to support the purchase of lawn and/or window signs once again for our Grade 8 and 12 commencing students. These signs are expected to be delivered during the week of June 13.
As schools prepare for to celebrate the achievements of students this past year, teachers and staff proactively work to create inclusive and equitable opportunities for participation of students and families, and to remove any barriers that may exist for participation.
Details about commencement celebrations have been relayed to families by schools, with the first events taking place the week of June 20. Contact your child/ren's teacher or principal if you have any questions or suggestions about commencement.
Updated on Tuesday, June 14, 2022.