What is De-Streaming? December 8 Virtual Information Session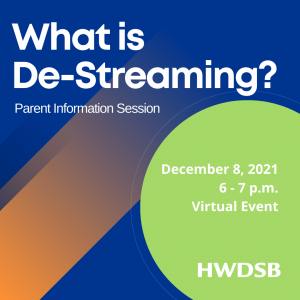 De-streaming is an approach to learning that intends to "better support students in having every opportunity to pursue the pathway of their choice after their K-12 education" (Ontario Ministry of Education).
What is De-Streaming?
When: Wednesday, December 8, 2021 6:00 – 7:00 p.m.
Where: Join via MS Teams at https://hwdsb.info/de-streaming
This session will explain what de-streaming is, detail what's new and what has changed in the current curriculum, show how a de-streamed math course provides entry points for all students, and explore how teaching and learning is approached in a de-streamed classroom so that all students reach their full potential.
Watch the recording below:
Additional Links and Resources
Updated on Tuesday, December 14, 2021.