Data Privacy Week – January 22 to 28, 2023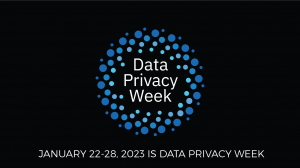 HWDSB is proud to once again recognize Data Privacy Week, which begins January 22, 2023. The annual event coincides with Data Privacy Day, which concludes the week on January 28.
Many countries around the world, including Canada, celebrate Data Privacy Week during the last week of January each year. Data Privacy Day commemorates the signing of Convention 108 in 1981, the first legally binding international treaty on privacy and data protection.
During Data Privacy Week, we promote awareness of the impact that technology has on our privacy rights and the importance of protecting these rights and our personal information.
In recognition of Data Privacy Week, we have pulled together a number of resources that we encourage you to use and share. By sharing these resources we can better protect our online privacy, strengthen our data security, and promote cyber safety awareness.
Please see below for some useful data privacy resources for both students and families from the Office of the Privacy Commissioner of Canada (OPC), Get Cyber Safe campaign, National Cyber Security Alliance, and more.
From the Educational Computing Network of Ontario (ECNO) / Government of Ontario:
From the Office of the Privacy Commissioner of Canada:
From the Government of Canada
From the National Cyber Security Alliance / Stay Safe Online – Data Privacy Day
From Canadian Anti-Fraud Centre
From Government of Canada – Canadian Centre for Cyber Security
Updated on Friday, January 20, 2023.