Meet the Cootes Paradise Student who Teaches Yoga to her Grade 4 Classmates
It is no secret that the 2020-21 school year has presented challenges to students, staff, and families. Classrooms have shifted from in-person learning to remote learning on multiple occasions, resulting in teachers getting creative with their instruction. It is also important to note that these changes can have a significant impact on mental health and well-being.
As a result, one HWDSB classroom has found a way to think outside of the box for its remote Physical Education lessons while also supporting mental health and well-being. Phoebe, a Grade 4 student at Cootes Paradise Elementary School has started using her instructional YouTube videos to teach yoga to her classmates.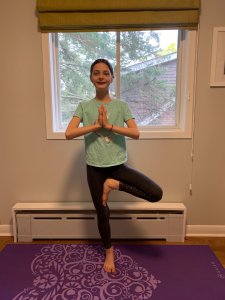 Phoebe learned about yoga through her mother and was inspired to start her YouTube account after seeing other kid-friendly instructional videos from channels like Cosmic Kids Yoga. She was initially looking to just share her creations with family and friends, but that changed once her teacher learned about her hobby.
"I told the class that I had a YouTube channel with yoga during our Brag and Drag time and my teacher Miss Turco suggested I could send her the video and maybe we could do for gym one day," said Phoebe. "I sent her a video and she recommended doing it because she watched it and thought it would be nice to share with the class, so I went along and it turns out a lot of people like it."
Classroom teacher Amanda Turco echoed the excitement of Phoebe's classmates, explaining how the yoga lessons have been a weekly favourite.
"I had a student ask me the other day, 'Are we doing more Yoga with Phoebe today?' Some feedback that they shared included things like 'I didn't know I could get such a great workout while also feeling so relaxed'," said Turco. "Students are missing this opportunity because they are not in class, and they are not able to interact with their peers in the same way that they used to. Therefore, having Phoebe, a student, lead a lesson allows for students to be much more engaged and even inspired!"
This classroom initiative would be a wonderful story any year, but it feels especially important during a pandemic year. The class has learned how yoga is used to create harmony in the body and mind and it has provided students with a valuable mindfulness strategy.
"This is really important during the pandemic because it is a stressful time and a lot of people are really stressed," Phoebe told us. "Doing yoga can give you a time of peace just with yourself and you don't have to be hustling and bustling and trying to stay on top of all the crazy stuff."
"With this week also being Mental Health Week, we have been discussing being able to talk about our feelings and strategies we can use to manage big feelings," Turco explained. "I think that yoga is very closely connected to this. It provides students with another strategy to manage their big feelings."
Thank you Phoebe and Miss Turco for finding a way to incorporate mental health and well-being into your lessons during a school year when it is most needed! We hope the class continues to practice yoga, as the skills being taught are beneficial to students, teachers, and the community as a whole.
Updated on Friday, May 07, 2021.