Big trees, indigenous pride help build relationships on visit to Nuu-Chal-Nuulth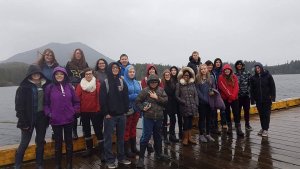 Giant trees, mountains and proud indigenous communities are making a great impression on students from Westdale and Westmount visiting the wild west coast of Vancouver Island to spend time with Nuu-Chal-Nuulth elders and community members.
Twenty-one HWDSB students are spending a week being hosted by people in the Pacific Northwest towns of Tofino and Ucluelet, small communities on a rain-soaked coast amid giant old-growth trees. Reached by phone, students noticed a few differences from Hamilton.
"The mountains here are the biggest difference with Hamilton," said Grade 12 Westdale student Suzie Isaac-Quicke, who has some Ojibway heritage. "And the people here are very kind, everyone just smiles at you."
Part of YMCA Canada's Culture Exchange program, the trip came together thanks to an application by Kleri Venizelos and Jennifer Currie. They wanted to build pride and positive relationships in schools not typically considered locations with First Nations students. Their work aligns with HWDSB's priority Positive Culture and Well-being.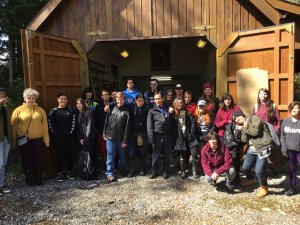 Venizelos, head of the Learning Resources Department at Westdale, wants students to feel like they are part of a wider indigenous community. At Ucluelet Secondary School, she added, about 55 per cent of students are First Nations. She said it's important for all students to see themselves reflected in their school.
Experiences on the trip will include staying at a resort on the site of a former residential school; hiking around big trees with a master carver Joe Martin; visiting Canada's only touch and release touch-tank aquarium; visiting a 106-year-old lighthouse; learning about Nuu-Chal-Nuulth traditions; and volunteering with the Surfrider Foundation to clean the beach of tsunami debris.
"There is a lot of respect for nature here," said Westdale student Sadie Boyter. "And I feel like their [indigenous] background is stronger."
Venizelos said that the Ucluelet "twins" will visit HWDSB from May 7-13. Hosts have planned a week that balances an indigenous focus involving Six Nations as well as classic tourist outings like Niagara Falls and a Toronto Blue Jays game.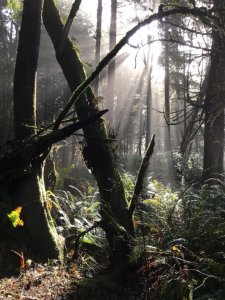 Venizelos credits the generous support of a YMCA grant for making the trip a reality, as well as supporters that include the HWDSB Foundation, the Hamilton Community Foundation, Hamilton Regional Indian Centre, Mohawk College, McMaster University and the Kanata Iroquois Village of Six Nations.
"We want these students to enjoy some shared experiences, to stay connected and to build relationships," Venizelos said. "We are breaking the stereotype that First Nations students are only found in North End schools."
Updated on Wednesday, April 05, 2017.