Authors of The Promise bring a lesson of understanding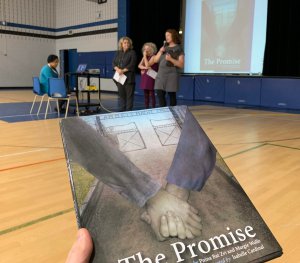 Allan A. Greenleaf elementary students in grades 5 to 8 learned about opposing hate, embracing diversity and the lessons of history thanks to the authors of a moving true story about the Holocaust.
The Promise, written by cousins Pnina Bat Zvi and Margie Wolfe, tells the story of the cousin's mothers during the Nazi-led Holocaust that killed millions of Jewish people during the Second World War.
The authors' visit, days after an anti-Semitic mass murder in Pittsburgh, began with the story of sisters Rachel and Toby, whose lives in Poland took a terrible turn and nearly ended in Auschwitz. The sisters were given three gold coins and made to promise that they would always stay together.
"Why do we read a 79-year-old story today" Wolfe, publisher of Second Story Press, asked the students at Greenleaf, which received copies of the beautifully illustrated book for classroom study.
"So, we don't repeat mistakes," one student said. "To show how the world has evolved," said another. "To show that it was wrong."
"Yes, it was wrong," Wolfe said emphatically. Her message linked discrimination against Jewish people with the struggles of Indigenous Peoples and other marginalized groups.
The visit led to a long, deep conversation about treating all people equally rather than focusing on difference, as well as struggling to understand the roots of anti-Semitism, which some refer to as the world's oldest hatred.
The book is being translated into at least eight languages, so that readers around the world will absorb its timeless – and timely – lessons.
Updated on Tuesday, October 30, 2018.